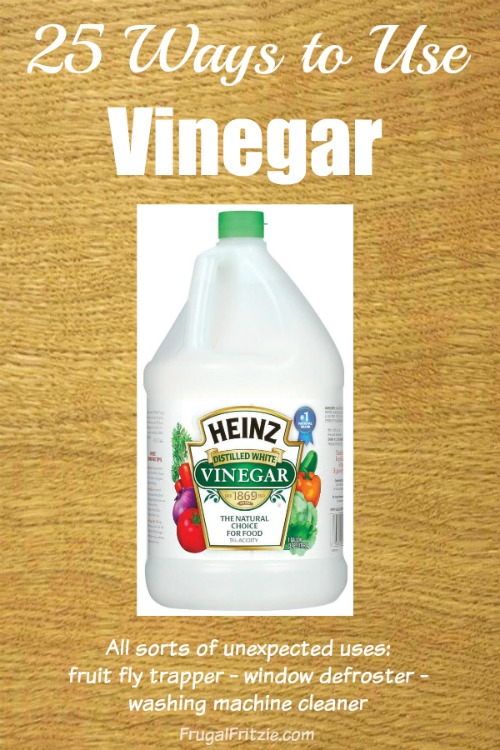 Ways to use Vinegar List
Vinegar has got to be one of THE most versatile products known to man. Not only is it used in recipes, but there are a ton of other different ways to use vinegar around the house too. Vinegar is an excellent all natural household cleaner amongst it's many amazing qualities. I have highlighted 25 fantastic ways you can put vinegar to use right now.
1. Grease-fighter. Remove grease stains in your kitchen including the stove by wiping down the area with a 50/50 solution of vinegar and warm water.
2. Drain Deodorizer (and unclogger). Pour 1/2 cup of baking soda and follow-up with 1 cup of vinegar. After the foaming dissipates, flush with hot water. Wait a few minutes and then flush again with cold water. This will not only unclog your drain, but it will keep it smelling fresh too.
3. Water Ring Dissolver. Remove water rings on your wood furniture by applying a 50/50 mixture of vinegar & olive oil, rubbing it with the grain. Use a second dry cloth to buff the spot away.
4. Candle Wax Remover. To remove melted candle wax from furniture, first blow-dry the affected area and blot with paper towels. Then rub with a 50/50 mixture of vinegar and water. Wipe the area clean with a soft cloth.
5. Rust Be Gone. Soak items like old rusty tools in full-strength vinegar to help remove rust. For especially rusty items, soak several days in an old container.
6. Dish Soap Booster. Adding a few tablespoons of vinegar to your dish soap will help it's grease-fighting abilities.
7. Microwave Cleaner. This is one of my favorite ways to use vinegar. Place a bowl of 1 cup water and 1/4 cup of vinegar and zap it for 3-5 minutes. This super simple step makes cleaning the microwave SO much easier!
8. Cutting Board Disinfecter. Wipe down your cutting board with full-strength vinegar to help cut back on bacteria.
9. Coffeemaker Cleaner. If your coffee starts tasting bitter, then it's time to clean your coffeemaker! Place a filter in the machine, add 2 cups vinegar and 1 cup water to your coffeemaker and let it run a full cycle. Remove the filter, replace with a new one and run it again with just water, repeat this step one time.
10. Fruit Fly Trapper. Check out this awesome DIY Fruit Fly Trapper Tutorial from Sweet Little Bluebird.
11. Bumper Sticker Remover. Saturate the bumper sticker with full-strength vinegar for 10-15 minutes. Then scrape away the residue with an old credit card. Wipe down with a rag soaked in vinegar to remove the rest of the residue.
12. Computer Cleaner. Keep your office & computer equipment clean and dust-free and they'll thank you with years of service. First, turn off all your equipment. Next, take a damp cloth using a solution of 50/50 vinegar and water. Wring the cloth as much as you can before wiping down your equipment. Cotton swabs work great for smaller nooks & crannies.
13. Smoke Odor Buster. If you burned your food while cooking, you can quickly remove the odor by swinging a damp rag soaked on vinegar around the room. Just be sure and wring the rag really well first though unless you want to fling vinegar everywhere. If the odor has totally saturated the house, leave a few bowls of vinegar sitting out for a bit to absorb the smoky smell.
14. Painted Floor Preserver. Paint tends to peel from cement floors after a bit of use. Help the paint last longer by first applying a coat of vinegar to the cement floor. Allow the vinegar to dry completely before painting the floor.
15. Paint Fume Remover. Place a shallow dish of full-strength vinegar in a freshly-painted room to get rid of paint fumes more quickly.
16. Paintbrush Refresher. Remove dried-on paint from a paint brush by soaking it in vinegar until the paint dissolves and then washing the paintbrush in hot, soapy water.
17. Window Defroster. Help keep the frost off of your car windows by spraying with a solution of three parts vinegar, one part water. One coat should last a few weeks.
18. Scissors De-gunker. Wipes down the blades with full-strength white vinegar to strip them of the gunk that tends to build up on scissors after a lot of use. If the scissors have a lot of build-up, let the vinegar sit on the blades for a few minutes. Then, dry off with a rag and presto, your scissors are once again like new!
19. Mildew Cleaner. Remove mildew stains by using a 50/50 mix of vinegar and water. For tougher stains, use full-strength vinegar.
20. Shower Door Shiner. Get your glass shower door sparkling clean with the following solution: 1 gallon water, 1/2 cup vinegar, 1/4 cup baking soda and 1 cup ammonia.
21. Bathtub Cleaner. Remove especially pesky hard-water stains by filling your tub with hot water over the stains & adding 3 cups of vinegar. After letting soak for a 2-3 hours, drain the tub and then stains should scrub away fairly easily.
22. Showerhead Deblocker. Remove mineral deposits from showerheads easily by soaking them in one quart of hot water and 1/2 cup of vinegar.
23. Furniture Scratch Concealer. To make scratches less noticeable on wood furniture, mix vinegar & iodine together in a small container & apply to the affected area with a small brush. For darker wood, use more iodine. For lighter wood, use more vinegar.
24. Running Color Preventer. Soak your new brightly color clothes in a few cups of white vinegar for about 10 minutes before their first wash to prevent colors from running.
25. Washing Machine Cleaner. There is no need to buy those pricey washing machine cleaners. Simply pour in two cups of vinegar and run your washer a full cycle without any clothes or detergent.
Note: This post is part of my "Use What You Have" series where I regularly take a look at a common household product and list 25 ways to use each one. If you want to reduce spending and cut down on things you really don't need, why not utilize what you already have around the house?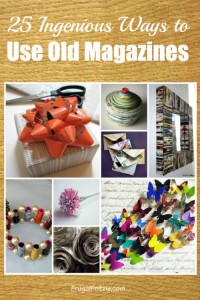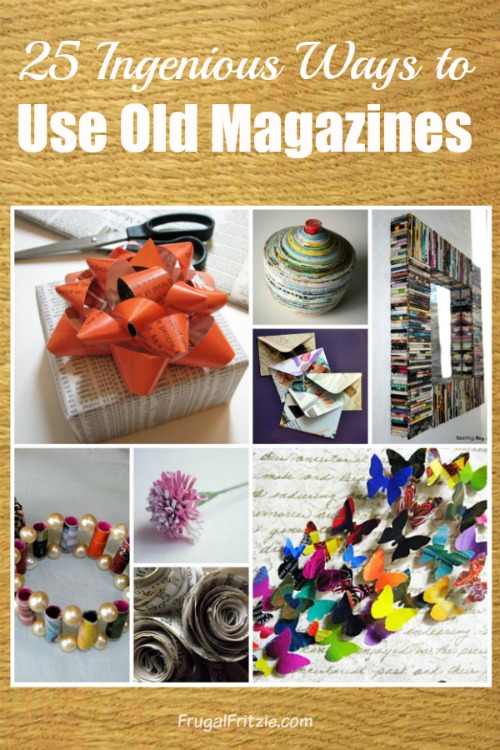 25 Ways To Use Old Magazines – everything from making gift bows to reshaping wet shoes.
25 Ways To Use Baking Soda – everything from DIY modeling clay to making fluffier omelets.
25 Ways To Use Lemons – everything from making your lettuce crisper to diy grout cleaner.
25 Ways To Use Borax – everything from DIY cleaning slime to making your own bouncy ball.
25 Ways To Use Hydrogen Peroxide – everything from toilet bowl cleaner to seed germinator.