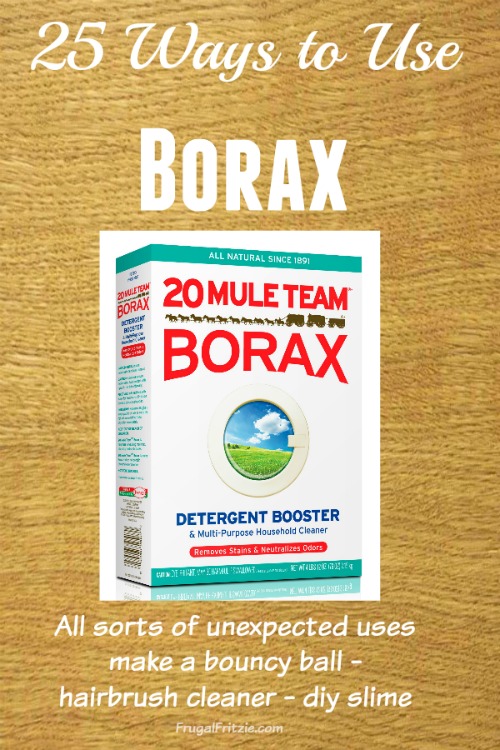 Here is a handy list of 25 different ways to use borax. A smart and easy way you can cut costs is by using what you already have on hand around the house. Borax is one of those items that most of us already have in our pantries, so why not get as much use out of it as possible? While borax is most commonly used in the laundry room, there are a surprising number of other ways borax can also be utilized. Borax is generally very inexpensive to purchase as well.
1. Hairbrush Cleaner. Use a 1/4 cup of borax with a tablespoon of dish soap in a small tub of warm water. Soak the hairbrushes and rinse well. The borax works great at getting off any residue.
2. Rust Remover. Make a paste of equal parts lemon juice and borax. Rub the paste on the rust stain and let sit for a few minutes. Rinse with water.
3. Drain Cleaner. Pour 1/2 cup borax down your drain. Follow up up with 2 cups of boiling water. After 30 minutes, run the tap water until the drain flushes out.
4. Ant Deterrent. Mix 1 tablespoon of borax with 1 cup of sugar and 1/4 cup of water. Mix together and add the mixture to a very shallow bowl. Personally, I found a lid worked the best. I also found soaking a cotton ball and putting the cotton ball on the lid worked better than just putting the water mixture in a lid by itself. I was very skeptical of this method until I tried it out for myself. I went into our bathroom one morning and a line of ants had made their way onto our bathroom counter, making breakfast out of our mouthwash of all things. UGH! I immediately tried out this solution and much to my delight, it totally worked. It takes time, but I found it to be very effective.
5. Floor Cleaner. Use a solution of 1/3 cup of borax, 1 teaspoon of dish soap, 1 tablespoon of lemon juice and 1 gallon of hot water.
6. China Reviver. If your china is starting to look a bit dingy, soak in warm water with 1/2 cup of borax for about 30 minutes. This will brighten your china right up!
7. Candle Wick Treater. Do you like making your own candles? Treat the wick with borax to get more life out of your handmade candles. Soak the wick in a solution of 3 tablespoons of borax, 1 tablespoon of salt and 1 cup of water for 24 hours. Let the wick dry completely before using. Treating the wicks this way will make the wick last longer and reduce ashes.
8. DIY Cleaning Slime. Now here's something I never thought of. Make your own cleaning slime to help clean items in hard to reach places like car vents. You can check out these Diy Slime instructions from Budget 101 for step by step details.
9. Cookware Cleaner. Sprinkle your aluminum or porcelain pans or pots with borax and gently clean away with a damp sponge.
10. Trash Can Refresher. Soak your trash can with a mixture of borax and warm water, let soak, rinse and dry thoroughly. Not only will it freshen up your garbage pail, but it will keep bugs away too.
11. Porcelain Sink Cleaner. Make a paste with 1 cup of borax and 1/4 cup of lemon juice. Apply the paste on the sink with a damp sponge or cloth and rinse with warm water.
12. Make Your Own Bouncy Ball. Yep, you can actually MAKE your own bouncy ball, how cool is that? Check out this helpful DIY Bouncy Ball recipe from The 36th Avenue with step by step instructions.
13. Flower Preserver. Dry out flowers while maintaining there shape and petals by using a mixture of 1 part borax to 1 part cornmeal or sand. Either works well.
14. Dishwasher Cleaner. Sprinkle borax in the bottom of your dishwasher and run as usual. This will banish odors and clean your dishwasher at the same time.
15. Pest Control. Ants aren't the only critters that do not like borax. Sprinkling on baseboards is said to keep away mice, fleas and roaches (keep out of reach of pets and kids though).
16. All Purpose-Cleaner. Borax is mild, so you can use it as an all-around cleaner. Mix a solution of 1/4 cup of borax, 1/2 teaspoon of lemon juice, 1/2 teaspoon of dish soap to 1 gallon of water. Add to a spray bottle and you're ready to go.
17. Mattress Deodorizer. Sprinkle borax on mattress. Let sit 15 minutes and vacuum.
18. Laundry Helper. Of course, you can always use borax for what it's traditionally for and that is a laundry helper. It can make clothes brighter and smell fresh longer. Add about 1/2 a cup of borax with a regular size load of laundry.
19. Carpet Stain Remover. Make a thick paste of borax and warm water. Apply to stain, let sit for a few minutes and sponge off. While borax is generally considered to be very mild, it is always a good idea to test for colorfastness beforehand.
20. Oven Vent Cleaner. You know that oven hood air vent that always seems to get nasty and greasy? Soak it in a solution of borax and water for a few minutes and voila, sparkly clean vent!
21. Carpet Deodorizer. Use a mixture of 1 cup of baking soda, 1/2 cup of borax and about 20 drops of your choice of essential oil (lavender is a great option). Sprinkle on carpet and vacuum.
22. Mold Remover. Use 1 cup of borax per gallon of warm water, wiping up any excess moisture as you go along.
23. Make Your Own Crystals. I really like these borax crystal shapes instructions from Club Chica Circle. Their instructions are very clear with great pictures to illustrate the whole process. Very cool!
24. Soap Scum Remover. Sprinkle borax in your shower or bathtub and wipe with a damp sponge to help remove soap scum.
25. Adhesive Remover. Remove those gummy labels with a paste of 2 parts borax to one part water.
Note: This post is part of my "Use What You Have" series where I regularly take a look at a common household product and list 25 ways to use each one. If you want to reduce spending and cut down on things you really don't need, why not utilize what you already have around the house?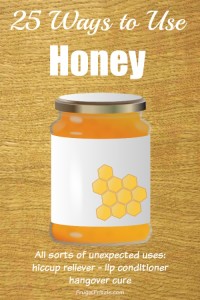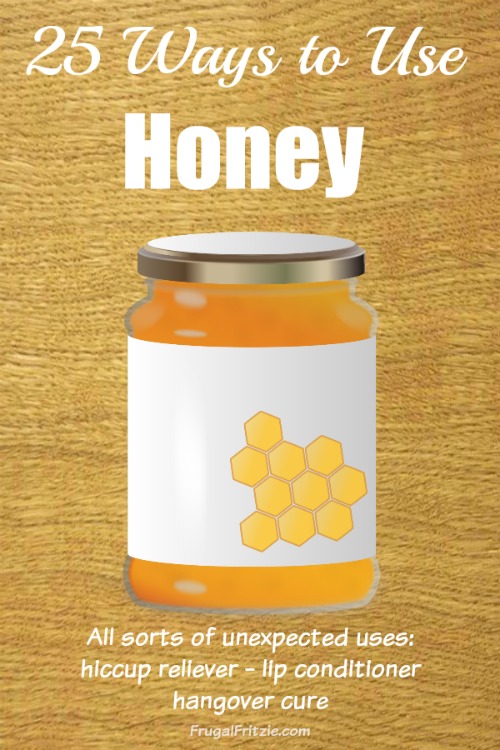 25 Ways To Use Honey – everything from hiccup reliever to lip conditioner.
25 Ways To Use Vinegar – everything from washing machine cleaner to creating a fruit fly trapper.
25 Ways To Use Baking Soda – everything from DIY modeling clay to making fluffier omelets.
25 Ways To Use Lemons – everything from making your lettuce crisper to diy grout cleaner.
25 Ways To Use Hydrogen Peroxide – everything from toilet bowl cleaner to seed germinator.
25 Ways to Use Old Magazines – everything from making gift bows to reshaping wet shoes.