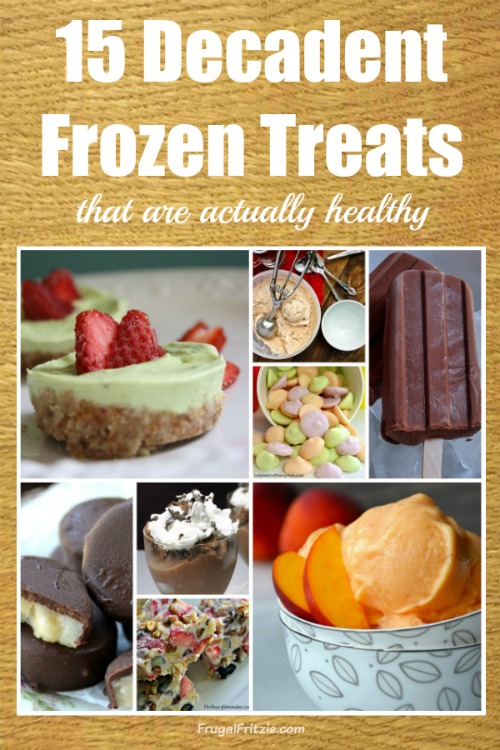 Here is a tasty roundup of 15 Decadent Frozen Treats recipes. The kicker is that these delicious treats are all quite healthy and actually good for you! With hot summer days comes the need for cool and tasty frozen awesomeness and every one of these frozen treat recipes all fit that bill. Ingredients include everything from avocados to blackberries, from Greek yogurt to bananas and SO more. Are you ready for an amazing frozen snack that is not only scrumption but is easy to make now?! I know I am! 😉
15 Decadent Frozen Treats
(in no particular order)
1. Frozen Yogurt Buttons from Lady Behind the Curtain.
2. Copycat Trader Joe's Gone Bananas from The View From the Great Island.
3. Frozen Hot Chocolate from Chocolate Covered Katie.
4. Frozen Yogurt Trail Mix Bars from Mrs. Happy Homemaker.
5. Jo's Key Lime Pie made with avocados from Run Hard Eat Clean.
6. Skinny Cookies & Cream Popsicles made with avocados from The Skinny Fork.
7. Oatmeal Cookie Dough Greek Yogurt Ice Cream from Yeah, Imma Eat That.
8. 5-Minute Healthy Peach Frozen Yogurt from Just a Taste.
9. Coconut Milk Fudgesicles from The Creekside Cook.
10. Skinny Peanut Butter Banana Frozen Yogurt from Mostly Homemade Mom.
11. Blackberry Frozen Yogurt from Tasty Kitchen.
12. Almond Joy Banana Ice Cream from Make the Best of Everything.
13. Homemade Orange Creamsicle Cream from Super Healthy Kids.
14. Chocolate Frozen Greek Yogurt from A Dash of Soul.
15. Strawberry Kiwi Vitamin C Ice Pops from Slow Roasted Italian.