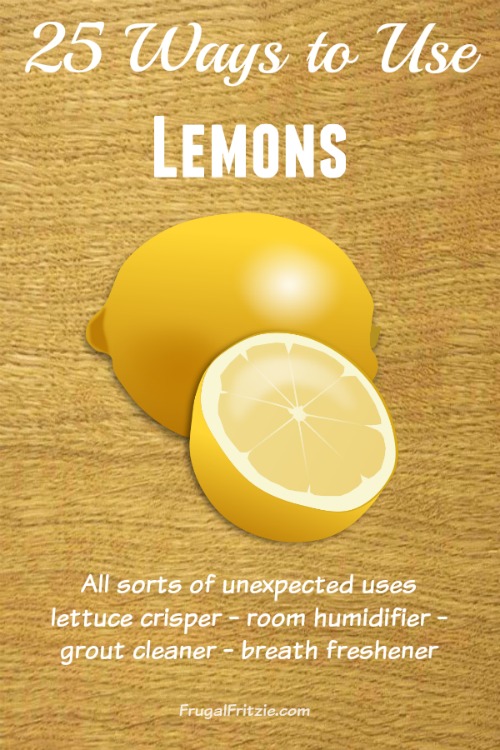 Ways to Use Lemons
Here is a helpful list of 25 ways to use lemons. If life hands you lemons, why not make something useful out of them, right?! If you are looking for ways to save money, then a really fantastic way of doing so is by taking a look around at what you already have and making the most out of these items. Lemons are one of those products that most of us already have on-hand. I may not always have fresh lemons all the time, but I almost always have a bottle of lemon juice. And what I really love about lemons is how extremely versatile they are. Not only are they wonderful in recipes and beverages, but they are an excellent all-natural household cleaner as well. Here are some of my favorite ways to use lemons (Other than eating them. But hey, we'll save that for a different post).
List of 25 Ways to Use Lemons
1. Lettuce Crisper. Add juice from half a lemon to a bowl of cold water and add the lettuce. Refrigerate for an hour, then remove from the water, drying the leaves completely (salad spinner works great if you have one).
2. Cauliflower Whitener. Cauliflower can sometimes brown while cooking. Add 2 teaspoons of lemon juice with the water before cooking to help keep them white. This trick works with potatoes too.
3. Non-Sticky Rice. Add a teaspoon of lemon juice to the water when cooking rice to make the rice less sticky.
4. Greener Guac. Sprinkle lemon juice over the top of your guacamole to help keep it green longer.
5. Brown Sugar Softener. If your brown sugar turns hard, add a lemon peel to soften it back up.
6. Grout Cleaner. Scrub your grout clean using the following mixture: 7 cups of water, juice from 1 lemon, 1/4 cup vinegar and 1/2 cup baking soda (scrubbing with an old toothbrush works well).
7. Berry Stain Remover. Berries and things like beets can stain dishes over a period of time. Soak them in a dishpan of hot water with lemon peels for a couple of hours to help revive those stained dishes.
8. Room Humidifier. Suffering from dry winter days? Add lemon peels and cinnamon sticks to a pot of water and simmer the water. Not only will it help humidify your house, but it will smell awesome at the same time.
9. Moth Deterrent. Got Moths? Make a sachet with dried lemon peels and hang in your closet or place in your dresser drawer.
10. Laundry Booster. Add 1/4 cup of lemon juice to a regular load of laundry to help brighten your clothes.
11. Chrome Polisher. Add lemon juice to a damp sponge and scrub away to help remove mineral deposits from chrome that tend to build up over time.
12. Dandruff Destroyer. Massage 2 tablespoons of lemon juice into your scalp and rinse well. Follow-up with a mixture of 1 teaspoon of lemon juice with 1 cup of water. Shampoo as normal. Repeat every other day as needed.
13. Age Spot Lightener. Soak with lemon juice for 10-15 minutes and rinse.
14. Breath Freshener. Rinse with straight lemon juice as you would with mouthwash occasionally. Lemon is a natural breath freshener. Just be sure and rinse with water right afterwards. Long term exposure to the acid from the lemon juice could harm your tooth enamel.
15. Deodorant. If you're in a pinch, lemon extract is said to work as a natural deodorant. I'm always skeptical of natural remedies like this one when it comes to things like deodorant. But, hey, it's worth a shot.
16. Nail Whitener. Scrub your fingernails with a lemon wedge to help whiten your nails.
17. Fridge Freshener. Help remove refrigerator odors by dabbing a cotton ball with a several drops of lemon juice and place in the fridge for several hours.
18. Microwave Cleaner. Use a mixture of 2 cups of water to 3 tablespoons of water. Place bowl in the microwave and set the timer for five minutes on high. You will find cleaning the microwave SO much easier. It will smell a heck of a lot better too.
19. Cat Litter Odor Neutralizer. Cut a lemon in half, placing each side up on a dish in the same room with the cat litter. The lemon will help absorb the odors.
20. Tea Kettle Cleaner. Add a handful of lemon slices to your tea kettle and fill with water. Bring to a boil then let sit for a few hours, then rinse well. This method will help remove mineral deposits.
21. Cutting Board Refresher. Sanitize your cutting board by rubbing the surface with half a lemon. Let sit a few minutes before rinsing.
22. Glass Cleaner. Add a few tablespoons of lemon juice with water in a spray bottle. Works great as a window cleaner and on other glass surfaces.
23. Degreaser. Dip half of a lemon into salt and scrub over the greasy surface (works great on greasy pans).
24. Furniture Polish. Use one part lemon juice to two parts olive oil as a furniture polish. Note: it's always a good idea to test a non-conspicuous area first.
25. Soap Scum Remover. Use a paste of one part lemon juice to two parts baking soda. This mixture helps remove soap scum from the bathtub or shower.
Note: This post is part of my "Use What You Have" series where I regularly take a look at a common household product and list 25 ways to use each one. If you want to reduce spending and cut down on things you really don't need, why not utilize what you already have around the house?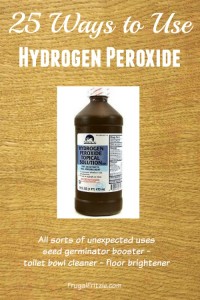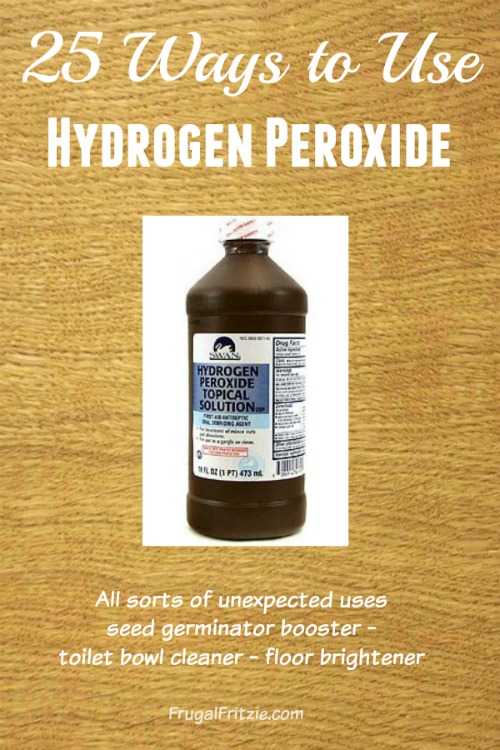 25 Ways To Use Hydrogen Peroxide – everything from toilet bowl cleaner to seed germinator.
25 Ways To Use Honey – everything from hiccup reliever to lip conditioner.
25 Ways To Use Vinegar – everything from washing machine cleaner to creating a fruit fly trapper.
25 Ways To Use Baking Soda – everything from DIY modeling clay to making fluffier omelets.
25 Ways To Use Borax – everything from DIY cleaning slime to making your own bouncy ball.
25 Ways to Use Old Magazines – everything from making gift bows to reshaping wet shoes.