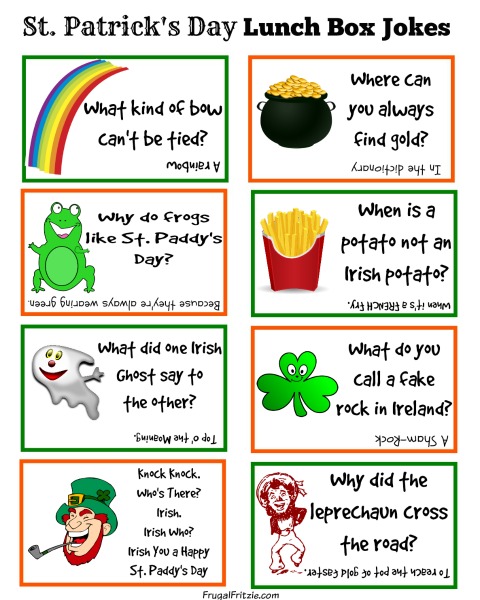 Here is a fun set of Free Printable St. Patrick's Day Kids Lunch Box Jokes. These free downloadable lunch box jokes in easy to print PDF format are sure to brighten your kids' day. They can pass them around at the lunch table and have a good laugh with their friends.
Speaking of St. Patrick's Day, here is a cute poem I came across I thought would be fun to share.
To Be A Real Leprechaun
To be a real leprechaun,
and have a pot of gold.
To be able to enjoy the music,
and not be left out in the cold.
Their life of enjoyment,
can be seen in their face.
To be a living leprechaun,
is something I can embrace.
Their little deeds of mischief,
and the matching of their wit.
And a toast of Irish whiskey,
to make this seem legit.
I'd love to be a leprechaun,
So life can be a treasure.
I know that I would love this,
beyond any kind of measure.
Dancing in the moonlight,
and hiding in the flowers.
The weeks are so carefree,
that days seem like hours.
From a thousand shades of green,
that's called the emerald isle.
I know the life of merriment,
is really quite worthwhile.
To be a living leprechaun,
is something of what I dream.
For if I really was one,
I would be held in high esteem.
By Bernard J. Howe