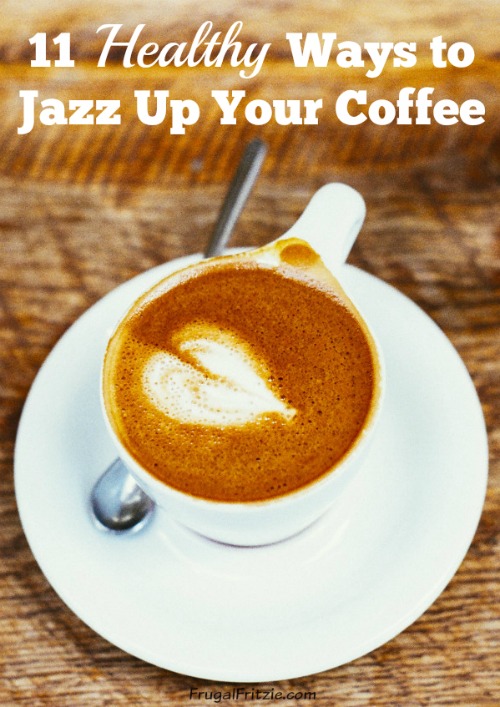 If you are looking for a few healthy ways to jazz up your coffee, then I have a list of several ideas. I love drinking coffee, but I admit I get a bit bored with just plain black coffee every single day, day in and day out. There are so many wonderful spices and natural sweeteners out there, so I thought why not use them to add some excitement to coffee, right?! It is an easy way get my fix for a "fancy coffee" without having to fork over big bucks at one of those fancy coffee places all the time. It just goes against every frugal fiber of my being to pay 5 bucks for a cup of coffee. This way, I can satisfy my urge for something different without having to spend much doing so. Anyway, for those days that a plain jane cup of joe just won't do, here are several healthy (and frugal) ways to flavor your coffee.
↓↓↓ (Click on "Read more…" below to view the rest of this post) ↓↓↓
1. Cocoa. Add 1 teaspoon of all natural unsweetened baking cocoa and 1 packet of powdered stevia, any brand. I like Truvia (or monk fruit). I buy my baking cocoa at Aldi which is very reasonably priced there.
2. Cinnamon. Add a cinnamon stick or a touch of ground cinnamon (about 1/2 teaspoon). I have found great deals on cinnamon sticks at a nearby natural foods store, it's surprisingly quite a bit cheaper than at the grocery store. Or, if you go through a lot of ground cinnamon like I do, I find it cheaper to buy in bulk online. Starwest Organic Ground Cinnamon has been my favorite I have tried so far. I can usually got a whole pound for around $5-6, an awesome buy considering how much an ounce or two sells for in a grocery store.
3. Stevia. Add a few drops of liquid flavored stevia like SweetLeaf Vanilla Creme like or Sweetleaf English Toffee. What I like about liquid stevia is that a little bit goes a really long ways. So it may seem pricey for a small bottle, but it is very concentrated and lasts a super long time.
4. Peppermint. Add Peppermint Extract. NOTE: A tiny little bit goes a really long way, trust me this, I have learned the hard way. LOL
5. AlmondMilk. Don't like it sweet? Add Almond or Coconut Milk instead. You can typically find half gallons for around $3.00 at various stores and they stay fresh a long time in the refrigerator, quite a bit long than regular milk. My favorite is Silk Unsweetened Almond Milk.
6. Pumpkin Spice (which is generally a combination of nutmeg,cloves & other spices) Add Pumpkin Spice, Vanilla Extract and stevia for a robust, fall flavor.
7. Homemade Whipped Cream. It's easier than you think! A super quick sugar-free whipped cream recipe: 1 cup of heavy whipping cream, 1 Tbs stevia, 1 tsp vanilla. Beat whipping cream with hand mixer until stiff, then add sweetener & vanilla. (Note: you can make it without any sweetener as well).
8. Cardamom. Add one cardamom pod or a pinch of ground cardamom. Cardamom is typically used in Turkish coffee and adds a nice, rich flavor.
9. Lemon or Orange. Add a slice of fresh lemon or orange for an energizing boost.
10. Coconut Oil. Add a teaspoon of coconut oil for a rich, sweet flavor. Stir it again once you're about halfway through drinking it so it doesn't settle at the top (ewww).
11. Ginger Root. Add a bit of ginger and a teaspoon of honey for a nice uplift.