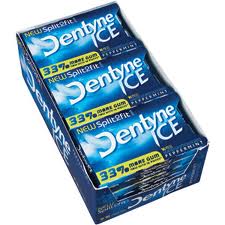 Have you ever been a breath offender? Um, yeah, I think we can all admit to being guilty to that at at least one time or another. Dentyne has released a Safe Breath Survey that takes a look at some of the worst breath offenders. For example, 58% off those that took the survey have lost interest in someone they were attracted to due to bad breath.
Well, introducing Dentyne's new Split2Fit Pack, this handy dandy new packs are designed to fit almost anywhere, so practicing safe breath while in those precarious situations will be easier than ever. LOL I got a chance to try out these new Split2Fit packs and I just love them! They are so convenient to carry along anywhere and the gum is so delicious. I have always been a big gum chewer for many, many years and this one has truly been one of my favorites that I have tried in the past several years. First, I love the taste. I tried out "Mint Frost" and it was SO refreshing and the flavor lasted a lot longer than other brands I've tried. I really did feel like I had fresher breath after trying it out, I'll definitely be carrying it with me so I'll always have it for any unexpected breath emergencies. I also loved that this gum never got rubbery, which is an instant turn-off for me, blech, there's nothing I hate more than rubbery gum. And I loved that it had a hard outer coating, so it's perfect in the summer months, it won't instantly turn into a big gooey mess in the summer heat.
And now for the fun part, one winner will receive 2 Boxes (yep, that's right BOXES, not packs) of Dentyne Ice Split2Fit Gum. Enter the Rafflecopter below for a chance to win. Good luck! 🙂
Note: I was contacted and received product and information to facilitate this review. As always, opinions are 100% my own.