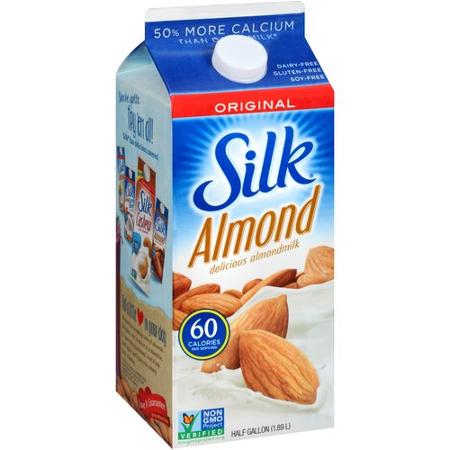 Head on over and print a Silk Coupon and save $2.00 on ANY two Silk Milk products , half gallons or larger, including Silk Almond Milk, Cashew Milk, Soy Milk and Coconut Milk (also includes So Delicious products). I would be sure and print these right away, Silk coupons usually reach their print limits fairly quickly. I absolutely LOVE their unsweetened Almond Milk, hands down my favorite of the various brands I have tried. Has anyone tried their Cashew Milk yet? That one is absolutely delicious as well, but Almond milk is still my favorite. You can find this on sale fairly often for around $3, sometimes less, so a nice buy after this coupon. Here are a few buys you can snag right now at Walmart. There is also a $0.55/1 Silk Milk Coupon you can print as well.
Silk Coupon
Walmart Deals (regular pricing)
Silk AlmondMilk, CoconutMilk or CashewMilk Half Gallon – $2.98
Use $2.00/2 Silk Milk Coupon
Final Cost $1.98
Silk Soy Milk Half Gallon – $2.98-$3.28
Use $2.00/2 Silk Soy Milk coupon
Final Cost as low as $1.98
Tip: Walmart pricing and stock can vary by region.