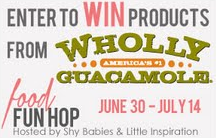 This Wholly Giveaway Event Hosted by: Shy Babies & Little Inspiration
with a little help from Nearly Nothing and other Super Bloggers. The hosting bloggers sampled Wholly's products & tried out recipes, including one that sounded like quite the tasty appetizer with the Wholly Guacamole and Salsa Verde.
"Umm… not all of it made it to the dish as we ate while we prepared it. This Wholly Salsa Verde with Guacamole is absolutely perfect. The taste of salsa verde stands out and you can taste the guacamole at the same time. It was a taste sensation that had us scraping the bowl clean to get it all. This was also a very easy dish because we wanted Wholly to do all the work. We simply took a can of refried beans, topped that with some sour cream and layered it with the Wholly Salsa Verde and Guacamole. We then topped it with some shredded cheese. Need I say that it is all gone?"

Visit Wholly almost anywhere. Website: http://eatwholly.com Product: http://eatwholly.com/products/wholly-salsa/pineapple-salsa.html
Facebook:http://www.facebook.com/WhollyGuacamole Twitter: http://twitter.com/eatwholly
Newsletter: http://eatwholly.com/community/newsletters.html
And now for the fun part! Win your own cooler full of Wholly Salsa and Guacamole Products by entering here. This great giveaway runs from June 30, 1:00 AM CST through July 15, 2012 1:00 AM CST. Winner will be chosen and notified July 16 and will have 24 hours to respond. Reusable Cooler and product will ship directly from Wholly. Good luck!
Javascript must be enabled to enter this giveaway. Learn how to activate Javascript by
clicking here.

Loading Entry-Form
Note: Wholly products were received by the hosting bloggers, I, personally didn't received products nor any compensation, I just thought this would be an awesome giveaway to share with my even more awesome readers! As always, opinions are 100% my own.