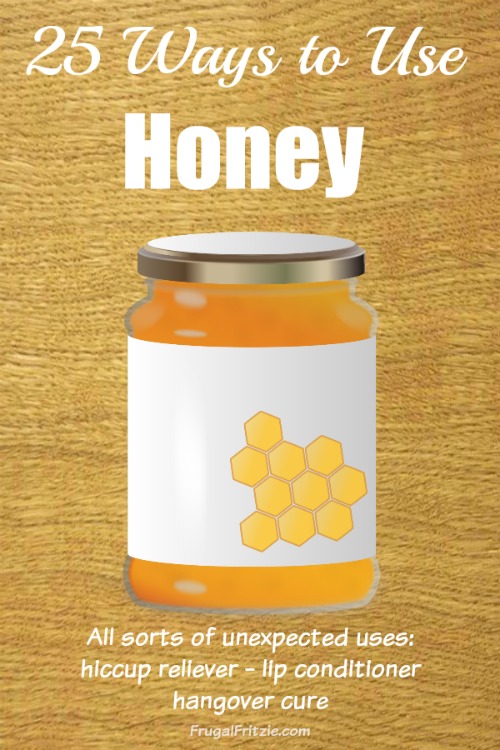 Ways To Use Honey
A few years back after suffering from several bouts of sniffles and sore throats, I turned to honey at the suggestion of others. Not only did honey work like a charm for me, but I discovered a lot of other amazing ways to use honey too. Not only can honey be used to soothe a sore throat, but it can be used as homemade beauty treatments and for other different ways around the house. I especially like raw honey, it is one of those items I always keep in my pantry. I have listed a few of my favorite ways to use honey along with a few fantastic sounding honey recipes too.
1. Skin Clarifier. Raw honey contains natural enzymes that help clarify your skin and keep your pores clear at the same time. Use a mixture of one tablespoon of raw honey and two tablespoons of coconut oil. Apply to dry, clean skin, massaging gently into your skin. Rinse with warm water. Ahhhhh.
2. Scar Minimizer. Honey is said to lighten the appearance of scars. Rub into the affected area with an equal mixture of honey and olive oil (or coconut oil).
3. Hiccup Reliever. Mix a teaspoon each of honey and castor oil, consuming a little bit at a time until the hiccups stop. This mixture is said to have antispasmodic properties which helps relieve hiccups.
4. Weight Loss Aid. Drinking warm water with honey and lemon on an empty stomach is said to help flush toxins and digest the fat in your body.
5. Hangover Cure. Make a smoothie with honey, orange juice and yogurt to help soothe hangover symptoms.
6. Knockout Allergies. Consuming raw honey local to your area is said to help reduce allergies from tree pollen.
7. Natural Sleep Aid. Drink a glass of warm milk with a little of honey before bedtime for a peaceful night's sleep.
8. Energy Booster. Feeling sluggish? Consume a tablespoon of raw honey for a quick burst of energy.
9. Tummy Upset Reliever. To relieve your indigestion naturally, drink a glass of warm water with honey and lemon.
10. Sore Throat Soother. When you feel a tickle in your throat coming on, consume a teaspoon of raw honey. This little tip has worked wonders for me.
11. Burn Treater. Gently apply honey with a cotton swab to the affected area.
12. Hair Hydrator. Adding a touch of honey to your shampoo is said to help fight off frizz.
13. Face Cleanser. Make an all natural soap like this wonderful sounding Homemade Oatmeal and Honey Soap from the Nerdy Farm Wife.
14. Lip Conditioner. Help seal in moisture and leave your lips feeling soft with a Diy Lip Balm like this mixture from Everyday Roots.
15. Acne Fighter. Applying honey directly to acne is said to help speed up healing.
16. Fresh Figs & Honey Compote Recipe from Miss in the Kitchen. All I can say is YUM, this sounds amazing!
17. Homemade Honey Butter Recipe from Happy Money Saver.
18. Crock Pot Honey Garlic Chicken Recipe from Funny is Family.
19. Honey Salmon in Foil Recipe from Damn Delicious.
20. Best Ever Chocolate Oatmeal No-Bake Bars Recipes with honey from Money Saving Mom.
21. Honey Roasted Carrots Recipe from Slender Kitchen.
22. Healthy Honey Mustard Dressing Recipe from My Whole Food Life.
23. Pectin Free Strawberry Jam sweetened with honey from Texanerin Baking.
24. Greek Yogurt & Honey Blueberry Muffins Recipe from Baker By Nature.
25. Southwest Shrimp Salad Recipe with Spicy Honey-Lime Dressing from Premeditated Leftovers.
Note: This post is part of my "Use What You Have" series where I regularly take a look at a common household product and list 25 ways to use each one. If you want to reduce spending and cut down on things you really don't need, why not utilize what you already have around the house?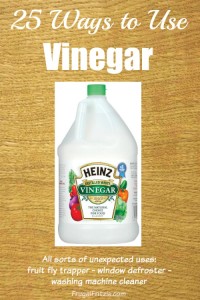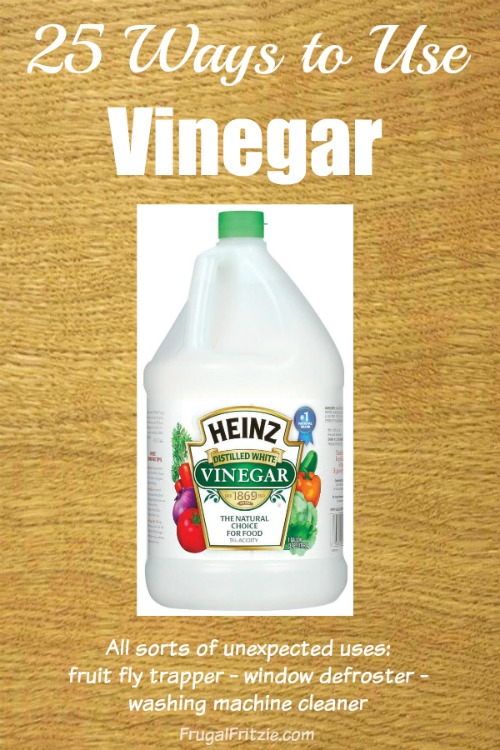 25 Ways To Use Vinegar – everything from washing machine cleaner to creating a fruit fly trapper.
25 Ways To Use Baking Soda – everything from DIY modeling clay to making fluffier omelets.
25 Ways To Use Lemons – everything from making your lettuce crisper to diy grout cleaner.
25 Ways To Use orax – everything from DIY cleaning slime to making your own bouncy ball.
25 Ways To Use Hydrogen Peroxide – everything from toilet bowl cleaner to seed germinator.
25 Ways to Use Old Magazines – everything from making gift bows to reshaping wet shoes.