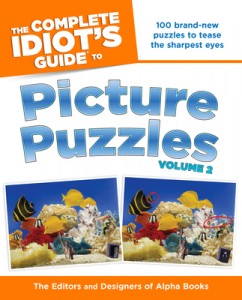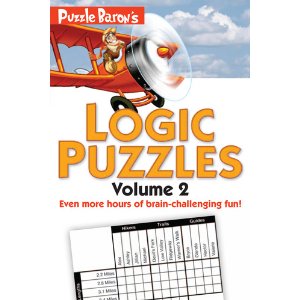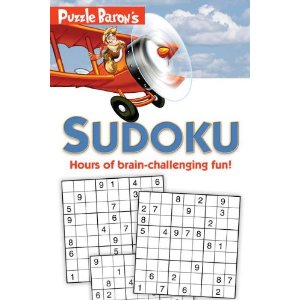 With the hot summer months well in force, it's the perfect time to crack open a puzzle book. Whether you're traveling on the road, relaxing on the beach or just staying inside in the air conditioning out of the heat, puzzle books can be a fun and relaxing way to wile away the hours. Not to mention that it's a great activity for your brain! I have always love playing games and puzzles. Long before the internet, I was always playing board games and had an endless stock of puzzle books on hand. We spent a lot of time traveling when I was a kid and the puzzle books were the perfect thing to pass the time away when we were on the road. Even with the internet era, I still love to have the actual books on hand. While playing games online is fun too, to me there's nothing like having a pencil or pen in hand and working through a puzzle out of a book. I almost always have a puzzle book in my purse or in the car, so I'm never without entertainment. I especially like to have them on hand when I'm sitting, waiting around for an appointment, especially at the doctor's office. As you probably well know, sometimes you never know just how long a wait at the doctor's office may take. 😉 I had the chance to look over the following three puzzle books:
The Complete Idiot's Guide to Picture Puzzles, Vol. 2 contains:
Full-color picture puzzles for all levels and ranges of ability
Pictures appropriate for all ages
Whacky, funny, silly, whimsical, and oddball pictures
An easy-to-use answer key
Follow all the great Complete Idiot Guides.
Puzzle Baron's Logic Puzzles, Vol. 2 provides 200 more grid- based logic puzzles from the popular online puzzle site. For each puzzle, readers are given a background story and a list of text-based clues and then use logic to sift through the clues to arrive at the correct answer to a question. Unlike other logic puzzle books, every puzzle in Puzzle Baron's Logic Puzzles, Vol. 2 includes statistics-such as the average completion time, the record completion time, and the percentage of puzzlers who successfully complete the puzzle-to bring out the competitor in puzzlers and better inform them on how easy or difficult each puzzle is.
Features 200 grid-based logic puzzles
Includes puzzle statistics for added excitement
Ideal for kids and adults
AND lastly,
Puzzle Baron's Sudoku: With a total of 400 Sudoku puzzles-25 easy, 100 medium, 175 hard, and 100 super hard Sudoku puzzles-this smart, symmetrical, elegant, and thoroughly addicting book will challenge and satisfy your mind.
My favorite of the three books was the The Complete Idiot's Guide to Picture Puzzles, Vol. 2. I found it highly entertaining and I was really impressed by the quality of the pictures and the glossy pages. This book out of all three, I thought would make an awesome gift because just about everyone I know loves picture puzzles and this one was a very pretty book. I also liked the different play levels within the book, everything from Easy to Advanced. And let me tell you, even the "Easy" levels are plenty of a challenge and the Advanced levels will entertain a looooong time, because it takes quite awhile to figure out each on of those puzzles. Now, for the 2nd book, Puzzle Baron's Sudoku, I didn't really think it was fair to give that one a try, because I absolutely hate sudoku puzzles ans always have. I don't know why, but I have just never gotten them. I think I'm missing the brain cells required to tackle those particular kinds of puzzles. Ha! So I handed that one over to John who generally has never liked to play games of any kind, but loves sudokus and he dug right into the book and I didn't hear from him again for hours, so I take that he really enjoyed it and boy, the house sure was nice & quiet for a change too. LOL The really enjoyed the third book, the Puzzle Baron's Logic Puzzles, Vol. 2. I've always been a big fan of logic puzzles, so this one was a lot of fun for me and plenty of a challenge to really work those brain cells! I enjoyed the Grid-layout of the puzzles, it made it much easier to tackle the puzzle in a more organized way. Fun times for the brain for sure! 🙂
And now for the fun part! Let's start off the week right with a Giveaway! Enter the Rafflecopter below (super easy entries!), one winner will receive all three puzzle books, fun!
Note: I was given a set of the books in order to facilitate this review, I received no compensation. As always, my opinions are 100% my own.