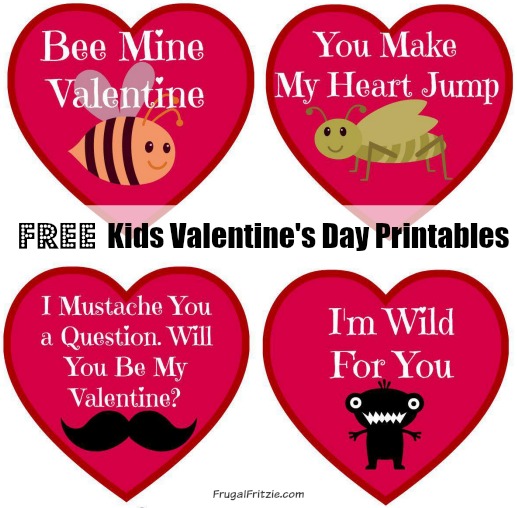 Here are some free Kids Valentine's day cards printables I created. This set of fun Valentine's Day Class cards for kids, in easy to print PDF format and includes: "I'm Wild For You", "I'm Mustache You A Question? Will You Be My Valentine", "You Make My Heart Jump" and of course the classic "Bee Mine Valentine". Valentine's Day is a great time of year to come up with creative and clever ways to show the people around you how much you care. And I just love all of the unique and fun ideas for Kids Valentine's so I thought it would be fun to come up with a few of my own. I hope you enjoy them as much as I did making them. I think I'll have to take a stab at making a few Valentine's Day gift tags next.
Print Free Kids Valentine's Day Cards HERE (PDF format)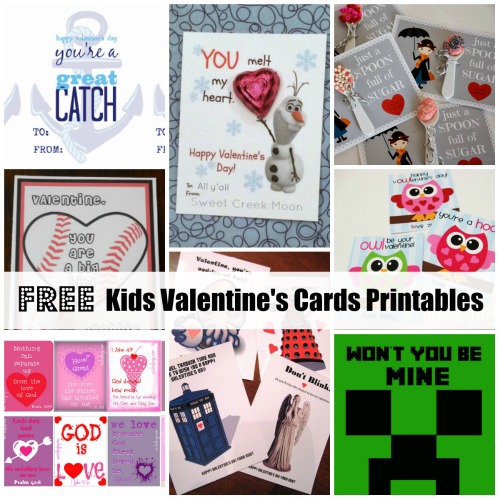 In addition, here is a roundup of MORE Free Kids Valentine's Day Cards Printables available from other awesome bloggers:
Disney Frozen Olaf Free Printable Valentines from Sweet Creek Moon.
Dr. Who Valentines from Frantically Simple.
Bible Verse Valentines Printable from Rachel Wojo.
Free Minecraft Printable Valentine's from Mommie Daze.
Free Printable Owl Valentines from Artsy Fartsy Mama.
You Are a Big Hit Kids Baseball Valentines from A Sparkle of Genius.
Mary Poppins Valentine from Restless Risa.