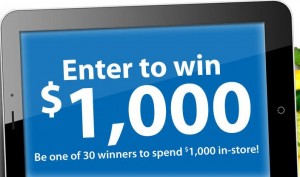 new Dillons Sweepstakes
Reminder for you Dillons shoppers out there. Good luck!
Head on over to Dillons and enter their new sweepstakes for a chance to win a $1,000 Dillons Gift Card. 1 winner will be chosen daily, a total of 30 gift cards will be given away. Log in to your account to enter. Once you've completed your entry, you'll be automatically entered into the sweepstakes daily. No purchase necessary to enter, limit 1 prize per participant, ends February 11, 2013 at 11:59:59 p.m. (PDT).  See the official rules for more details.