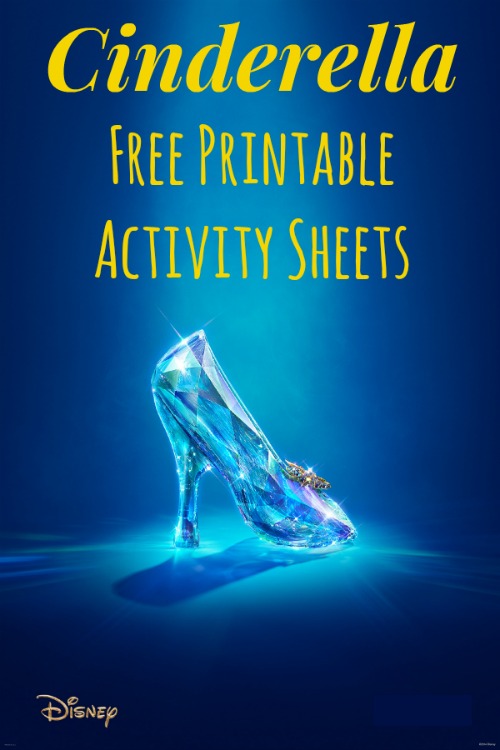 Here is a fun set of Disney's Cinderella Free Printables Activity Sheets including a Clock Craft, a Maze, a Word Search and a really cool Connect-the-Dot Draw Your Own Glass Slipper Printable.
Cinderella Draw Your Own Glass Slipper Printable.
Cinderella Printable Clock Craft.
Cinderella Printable Word Search.
Disney's Cinderella has been released on March 13th, 2015 to theaters everywhere and looks to be quite the sensation! This live-action feature is inspired by the classic fairy tale. Cinderella brings to life the timeless images from Disney's 1950 animated masterpiece in a visually-dazzling spectacle for a whole new generation. The story of "Cinderella" follows the fortunes of young Ella (Lily James) whose merchant father remarries following the death of her mother. Eager to support her loving father, Ella welcomes her new Stepmother (Cate Blanchett) and her daughters Anastasia (Holliday Grainger) and Drisella (Sophie McShera) into the family home. But, when Ella's father unexpectedly passes away, she finds herself at the mercy of a jealous and cruel new family. Directed by Academy Award nominee Kenneth Branagh ("Thor," "Hamlet") and starring two-time Academy Award winner Cate Blanchett ("Blue Jasmine," "Elizabeth"), Lily James ("Downton Abbey"), Richard Madden ("Game of Thrones") and Academy Award nominee Helena Bonham Carter ("The King's Speech," "Alice in Wonderland").