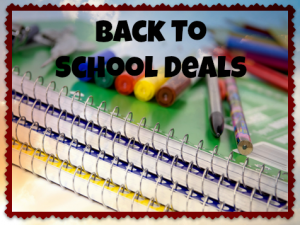 Here is this week's Back to School Price Comparison | Week of 7/14-7/20. A handy dandy spreadsheet is included so you can see what the best deals from various stores including Walgreens, Target, Office Max, Office Depot, Staples, Toys R Us, CVS, Walmart and more! The best deals of the current week are highlighted in green. I will be posting a comparison each week throughout the season. For a more detailed look, you can see all the Back to School Deals HERE.
And here is a PDF version you can print and take with you for easy reference if you like:
Back to School Price Comparison Printable List HERE
Thanks Pocket Your Dollars, My Dallas Mommy, Frugal Fritzie,My South Central Texas Mommy, Maven of Savin', The Coupon High, The Coupon Challenge, Couponing for 4, Prudent Patron, Fabulessly Frugal, Southern Cali Saver & The Coupon Project for helping create and maintain this spreadsheet!