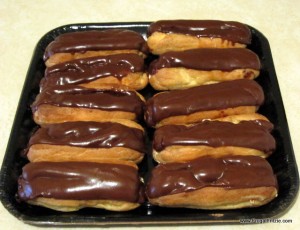 Today is my birthday, so I took a much needed day off today (or most of it anyway) 😉 I've enjoyed the day very much and wanted to share with you the tasty treat we enjoyed earlier, these delicious Chocolate Eclairs. I haven't had an eclair in years and oh, what fun it was to eat! It is one of those kind of treats that you just grin with every bite, SO good! Talk about decadent, it's definitely one of those special occasion kind of treats for sure which I thoroughly loved and it was a great day indeed. 🙂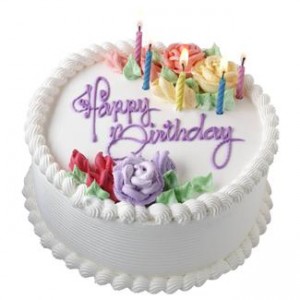 Now, since it's my birthday, I thought it would be fun to have a list of available Birthday Freebies. Sign up for these now, so once your birthday rolls around, you'll be set!
Ace Rewards – $5/$20 Purchase Coupon
Arby's – Free Roast Beef for signing up.
Auntie Anne's – BOGO Pretzel Coupon
Baskin Robbins – 2.5oz Scoop
Bob Evans – Free Kid's Meal
Bruegger's – Free Cookie
Build a Bear – $5 off (no minimum!)
Burger King – Hamburger Kids Meal
Chuck E Cheese – 20 Free Tokens for your child.
Coldstone Creamery – BOGO Creation coupon
Culver's – Free 1 Scoop Sundae. No other purchase required.
Dairy Queen – Free Mini Blizzard w/purchase of a medium.
Dave & Busters – $5 Game Play
Disney Movie Rewards – 100 Bonus Points
Driscoll's Berries – $0.50 off Coupon
Famous Dave's – Free food – varies between dessert/app/dinner
Fuddruckers – Free Burger
IHOP – Entree for sign up, FREE Rooty Tooty Fresh N Fruity or equal entree for birthday.
**For Kids – Free Rooty Jr (or item of equal or lesser value)
Logan's – Free NutterButter Fudgeslide w/Entree purchase.
Macaroni Grill – $5 offer for sign up, Free Dessert for birthday.
Moe's Southwest Grill – Cup of Queso at Sign up, Free Entree for birthday.
Noodles and Company – Free Dish. No other purchase required.
Old Navy – $10/$50 Coupon.
Orange Julius – BOGO.
My Panera – Join My Panera for a free pastry or sweet at sign up, earn rewards on purchases through the year
Papa Murphy's – Free Cookie
Qdoba – BOGO Entree. Arrived 1 week before, good for 2 weeks after. You get free chips and salsa or queso (I don't remember which) when you sign up! – updated 4/10/12
Red Lobster – $5 off 2 Entrees
Red Robin – Free Gourmet Burger. No other purchase required.
Ruby Tuesday – Free Handcrafted Burger. No other purchase required.
Sears – $10/$30 In-store Coupon
Sephora – Freebie emailed to you, this year a Fresh Sugar Kisses Mini Lip Duo
Sonic – Choice of Cream Slush, Tots or Medium Drink
Starbucks – Free Drink with sign up
Steak 'n Shake – Free Double Steakburger with Cheese & Fries – No other purchase required.
TGIFridays Gimme More Stripes – Free Dessert
Toys R Us – Sign up for their Birthday Club & get a $3/$3 coupon card in the mail
Thanks Sarah's Deals!