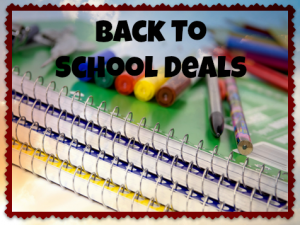 Here are Walgreens Back to School Deals 84 for the week of August 4th through August 10th. I'll also be posting other back to school deals from major chains throughout the summer as well along with a weekly price comparison listing.
Check out more Back to School Deals HERE.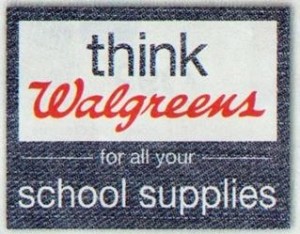 ↓↓↓ (Click on "more…" below to view the Walgreens Back to School deals for this week) ↓↓↓
Note: You'll need to use your Walgreens Balance Rewards Card to get the sale prices advertised.
UNDER $1.00 DEALS
Wexford 2-Pocket Folders with prongs – 6/$1.00
Wexford Memo Books 50 or 80 sheets – 6/$1.00
Penway Wooden Ruler 12 in – $0.19
Use Walgreens coupon in-ad
Wexford Plastic Protractor 6 in – $0.19
Use Walgreens coupon in-ad
Wexford Erasers Cap 15 pk or Pink 2 pk – 4/$1.00
Use Walgreens coupon in-ad
Paper Mate Stick Pens 10 pk – $0.29 (limit 6)
Paper Mate Mechanical Pencils 5 pk – $0.29 (limit 6)
Wexford Plastic Compass – $0.39
Use Walgreens coupon in-ad
Wexford Pencil Sharpener – $0.39
Use Walgreens coupon in-ad
Plastic Supplies Box – $0.69
Use Walgreens coupon in-ad
Wexford Filler Paper 130 sheets – $0.69
Use Walgreens coupon in-ad
Wexford Composition Book 100 sheets – $0.79
Use Walgreens coupon in-ad
Wexford Notebook 1-Subject 70 sheets – $0.79
Use Walgreens coupon in-ad
Sharpies Permanent Markers 2 pk – $0.79
Use Walgreens coupon in-ad
BIC Atlantis Pens 4 pk – $0.99
Use $1.50/2 BIC Stationery product coupon (play game, print afterwards)
Or Use $1/2 BIC Stationery product coupon coupon from the 7/28 SmartSource insert (note: some areas will get a $1/1 coupon!)
Final Cost as low as FREE
BIC Cristal Pens 10 pk – $0.99
Use $1.50/2 BIC Stationery product coupon (play game, print afterwards)
Or Use $1/2 BIC Stationery product coupon coupon from the 7/28 SmartSource insert (note: some areas will get a $1/1 coupon!)
Final Cost as low as FREE
Wexford Stick Pens 20 pk – $0.99
Use Walgreens coupon in-ad
Wexford Retractable Pens 4 pk – $0.99
Use Walgreens coupon in-ad
Fiskars Safety Edge Scissors 5 in – $0.99
Use Walgreens coupon in-ad
Wexford Color Binder 1 in – $0.99
Use Walgreens coupon in-ad
Wexford Legal Pads 2 pk, 50 sheets each – $0.99
Use Walgreens coupon in-ad
Wexford Construction Paper 48 sheet pad or 96 sheets 9″x12″ – $0.99
Use Walgreens coupon in-ad
Wexford Marbled Composition Book 80 sheets – $0.99
Use Walgreens coupon in-ad
Wexford Correction Fluid 2 pk – $0.99
Use Walgreens coupon in-ad
Crayola Crayons 24 pk – $0.99
Use Walgreens coupon in-ad
Elmer's Jumbo Glue Stick 2 pk – $0.99
Use Walgreens coupon in-ad
Uniball Gel Pen 2 pk – $0.99
Use Walgreens coupon in-ad
Acco Binder Clips 12 pk – $0.99
Wexford by Duck Packing Tape 1.88 in x 24.4 yds – $0.99
Wexford Dry Erase Markers 4 pk – $0.99
Use Walgreens coupon in-ad
Expo Dry Erase Markers 2 pk – $0.99
Crayola Markers 10 pk – $1.99
Use $1/1 Crayola Washable Markers coupon (if included) (gone)
Final Cost $0.99
OTHER DEALS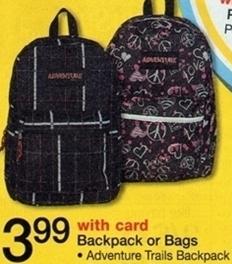 Adventure Trails Backpack – $3.99
Drawstring Bags 2 pk – $3.99
Urban Sport or select Licensed Backpacks – $9.99
Anchorage Backpack Set, 4 pc – $9.99
Wexford Messenger Bag – $9.99
Lunch Totes or Containers, select – 33% Off
Ticonderoga No 2 Pencils 24 pk – $3.99
Use $1 off 1 Dixon Ticonderoga 24 pk w/ Prang purchase coupon
Final Cost varies
Sharpies Permanent Markers 8 pk – $3.99
Wexford Desktop Calculator – $3.99
Elmer's Purple Disappearing School Glue Sticks 6 pk – 2/$6.00
Select Themed Notebooks, Portfolios, Binders, Composition Books or Themebooks – B1G1 FREE
Wexford 1-, 3- or 5-Subject Notebooks – B1G1 FREE
PNY Compact 8GB USB Flash Drive – $6.99
Cruzer 16GB USB Flash Drive – $14.99
Kleenex Facial Tissue 75, 80 or 160 sheets – B1G1 FREE (starts at $2.29 online, so $1.15 each)
Deal Scenario:
Buy 6 @ $2.29, so $1.15 each, Use two $0.50/3 Kleenex coupons from the 7/14 SmartSource insert
Final Cost $0.98 each
Wexford Binders 0.5 to 3 in – B1G1 FREE