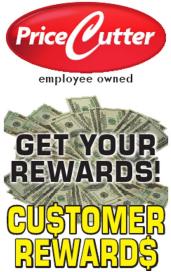 The Price Cutter Customer Rewards Card is back! Fill the punch card & Win $1, $5, $10, $20, $50, $100, $500, $1,000 or Wild Card. Look for stickers on products throughout the store & receive an extra $5, $10 or $20 punch on the Customer Rewards Card & fill it faster.
You can pick up a Customer Rewards Card in-store
Then, bring the card with you each time you shop and use it at checkout. Your cashier will punch the card to record your purchases & your visit to Price Cutter
When the card is punched full, the Store Manager will remove the seal on the back of the card & you will find out instantly how much you have won.
Every card is a winner & you can win as often as you like.
See participating store for individual store odds & complete rules.