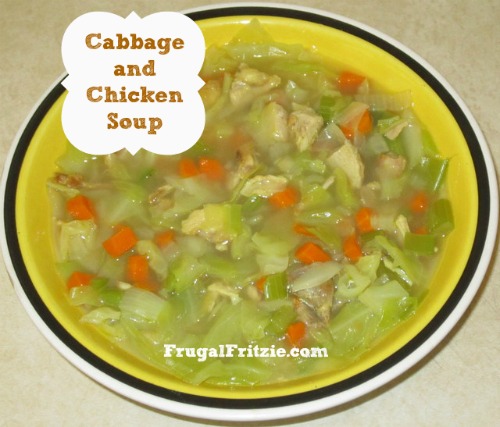 I have been wanting to experiment with making my own soups for a long time now, so I set out to make a tasty, yet healthy Cabbage and Chicken Soup recipe. I wanted to come up with an easy cabbage soup recipe that was hearty, yet not overly-filling. I like to try out different spices, but the ones included in this recipe are totally optional. That's the great thing about soups, you can add and subtract items to suit your own tastes. I concocted this recipe based on what I already had on hand. When I cook chicken, for example, I usually prepare about double the amount and half of it goes in the freezer. That makes it super easy to prepare a dish on  the fly. Anyway, onto my creation, I loved how easy this was to prepare. It also works great in a slow cooker and it freezes really well too.
Easy Cabbage and Chicken Soup Recipe
Ingredients
10 Cups Water
1 Tablespoon Better Than Bouillon Chicken (you can use chicken broth instead if you like)
4 Chicken Thighs, Cubed
1/2 Large Head Cabbage, Chopped
1 Small Yellow Onion, Diced
2 Carrots, Diced
2 Celery Stalks, Diced
1/3 Cup Green Bell Pepper, Diced
1/2 teaspoon Black Pepper
1/2 teaspoon Cayenne Pepper
1/2 Teaspoon Salt
Pinch of Turmeric
Directions
Use a 5-Quart pot. Add water, all the vegetables except the bell pepper and bring to a boil. Let simmer for about 5 minutes, then add the cubed chicken, bouillon, spices and bell pepper, then simmer for another 20 minutes or so, stirring on occasion. Cook to taste.  Let sit about 5-10 minutes, then serve. That's it!
Options
Personally, I like to add a dollop of plain greek yogurt on the top of this soup.  Other topping options could include sour cream, parmesan or a sprig of parsley. Also, you can substitute chicken breast for chicken thighs, but I find the dark meat lends more flavor to this hearty soup.  You can also make this in a crock pot for around 4 hours on high. I would recommend not adding the seasonings until the last hour of cooking though.