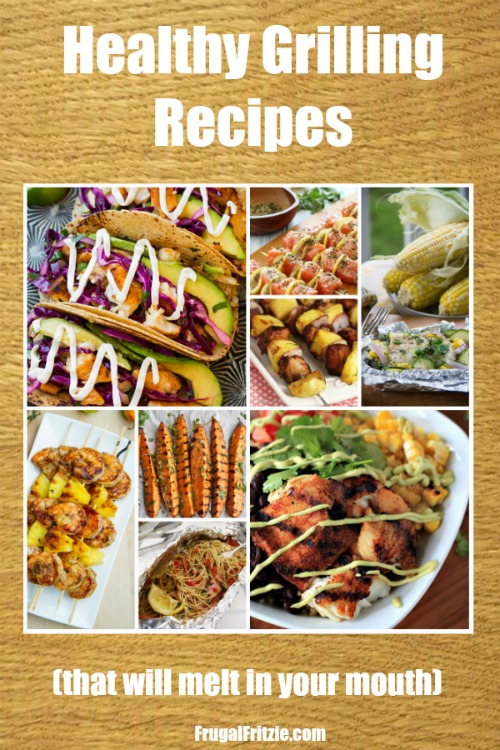 Healthy Grilling Recipes List
Here is a list of healthy grilling recipes that will melt in your mouth. These recipes include such ingredients as salmon, shrimp. pasta, chicken, pineapple, cilantro, fresh lime and more. Whether the occasion be for Father's Day, 4th of July or just because it's summer, any of these healthy grilling recipes are sure to be a hit.
Grilled Jerk Shrimp and Pineapple Skewers from Closet Cooking.
Summer Grilled Coconut-Lime White Fish Packets from Scrumptious Pumpkin.
Grilled Pasta Packets from Eighty Twenty.
Pineapple Chicken Kebabs from Julie's Eats and Treats.
Grilled Salmon Kebabs from Skinny Taste.
Pecan Crusted Chicken Strips from Honeybee Homemaker.
Grilled Cilantro-Lime Sweet Potatoes from Sweet Treats and More.
Gluten Free Grilled Tilapia Bowls with Chipotle Avocado Crema from Joyfully Healthy Eats.
Grilled Fish Tacos with Lime Cabbage Slaw from Cooking Classy.
Cajun Grilled Shrimp with Spicy Dipping Sauce from Spiced.
Grilled Cheeseburger Wraps from Mostly Homemade Mom and Skinny Mom's Kitchen.
Skinny Pineapple Teriyaki Pork Chops from Skinny Mom.
Grilled Ginger-Sesame Chicken Salad from Menu Musings of a Modern American Mom.
Vegetarian Stuffed Zucchini from A Family Feast.