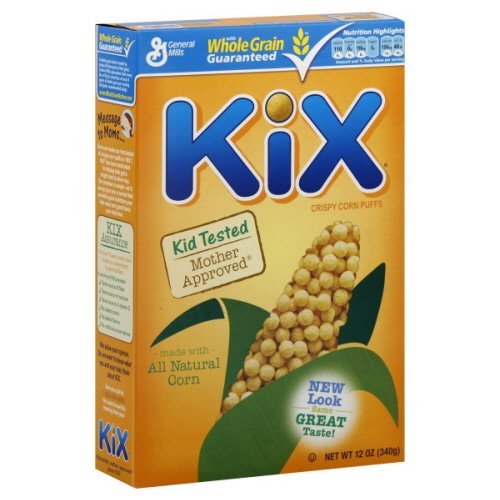 Head on over and print a $0.75/1 Kix Cereal Coupon for $0.75 off any one box of Kix cereal. The great thing about this Kix coupon is not only is it a higher value cereal coupon than we normally see, but it is good several varieties of Kix including original, Berry Kix and Honey Kix.
In addition, here are a few more new General Mills cereal coupons you may also like…
$0.50/1 Reese's Puffs Cereal Coupon, any one box.
$1/2 Cheerios Cereal Coupon, any Original Cheerios, Honey Nut Cheerios, Multi Grain Cheerios…
$1/1 Chex Clusters Cereal Coupon, any one box.
And it's a new month, so there are lots more new coupons on Coupons.com including the following…
$1/2 Pillsbury Refrigerated Goods Coupon, this is **HOT** Pillsbury coupon since it covers SO many Pillsbury products including any of their biscuits. Print NOW before this one disappears.
$0.50/1 Bisquick Coupon, any one Bisquick Pancake and Baking mix or Bisquick Ultimate Pancake & Waffle mix, 10.6 ounces or larger.
$1/1 Gluten Free Chex Granola Mix Coupon, any one bag.
$1/4 Old Orchard Frozen Concentrate Coupon, any variety.
$0.50/1 Fiber One Snack Bars Coupon or Fiber One Cakes, Fiber One 90 Calorie products or Fiber One Chewy Brownies.
$0.50/1 Kellogg's Rice Krispies Treats Coupon.