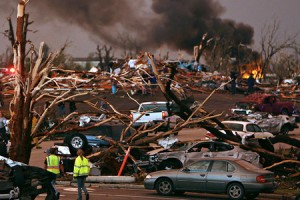 UPDATE #2: For all of you that have generously asked how you can help, I have started an online donation drive HERE.
UPDATE: Hi all, thanks SO much for all your messages and offers for help. I lost my phone line right after I posted this, but I now have it again (still no power & cell phone still out, but thankfully working off neighbor's generator). Anyway, now that I have communication again, I'm planning an online drive & will get be posting as soon as I get something coordinated. I'll be in touch very soon hopefully where items can be mailed & I will personally see to it that items are distributed where they are needed. Again, thank you so much! I will post again as soon as I have a plan in place.
As you probably know, my town Joplin, Missouri was hit Sunday evening by a tornado. 116 are now confirmed dead with many more injured. Storms are continuing through Joplin & are expected to continue through the next few days, so please keep us in your prayers. I am absolutely devastated at the loss, damage & heartbreak people are going through and I hope to come up with a plan to help as soon as is possible. Thanks so much for all the kind messages & prayers left here & on Facebook. We're fine, we were very, very lucky & I thank God that we made it (Thanks God. I love you!). At this point, while my phone line is currently working (and that could change at any time), my cell phone is down & while I can call out long distance, I have been unable to reach anybody within Joplin. While we have sustained some damage, we were one of the lucky ones, we live on the edge of where the destruction took place. I am currently without power (as expected) and have my refrigerator & computer plugged in to my next-door neighbor's generator (Thanks Burt, you're the best). My regular internet is understandably down, but I managed to get dial-up late this afternoon. I'll check in when I can and thanks again for the prayers all!