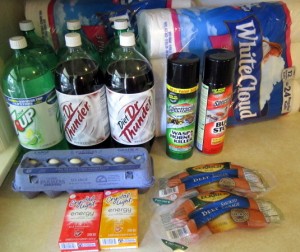 I hadn't been to Walmart in quite awhile (I'm just not a fan of the huge crowds), but I actually got there early enough before the heavy traffic, so it wasn't too scary yet.
I also went early to try and beat the heat, it was in the mid 80's pretty early today and really muggy, so not very comfortable weather. My shopping trip went well, no issues, a nice and easy transaction which is always great.
Oh, and another random act of kindness alert today! When I left Walmart, I noticed a high-pitched non-stop bark/shriek and wondered what was up, and then I saw that a couple of ladies were stationed in front of a vehicle that had a little dog in it that was just barking away. Only 2 of the windows were open which were barely cracked, so the little guy (or gal) was more than likely overheated. I don't think people realize that even in this weather, it's still just too hot for the poor little critters, it gets so much hotter inside a vehicle than just the normal temperature outside. Anyway, the ladies had flagged down a couple Walmart employees and let them know the situation. Whew!
My Transaction:
Spectracide Bug Stop Insect Spray – $2.88, Used

$3.00/1 coupon

(Wow, looks like this one's already gone?!)
Spectracide Wasp & Hornet Spray – $2.97, Used

$3.00/1 coupon

. Note: There's also a Mail-in

Rebate

, the Wasp & Hornet Spray is NOT included, but this was something I needed anyway.
2 Diet Dr. Thunder (2 liters) – $0.84 ea.
4 Diet 7Up (2 Liters) – $1.00 ea., Price matched for $0.88, Used 2 $1.00/2 ips (no longer available)
Dozen Eggs (large) – $1.98, Price Matched for $0.98
2 White Cloud Bath Tissue (12 double rolls) – $5.37 ea., Used 2 $2.50/1 coupons (

previously available

). These coupons really surprised me, as terrible as they looked when I printed them, they scanned fine, no problems, no beeps. Go figure! LOL
2 Crystal Light Energy To Go (10 pks.) – $2.00 ea., Used 2 $2.00/1 ips very briefly available & appears every once and awhile

here

. I'm drinking the Wild Strawberry version right now, yum!
2 Eckrich Beef Smoked Sausage (13 oz.) – $2.68, Price Matched for $1.99, Used 2 $0.55/1 coupons

here

. And fyi, according to Eckrich, none of their products contain "Pink Slime" which we keep hearing about in the media.
Final Cost $13.64