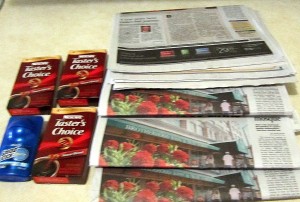 Since today was the first day Dollar Tree started accepting coupons, I stopped in to check it out for myself. The store was pretty wiped out of stock, but I still noticed several deals when I took a look around and I took a whole bunch of pictures which I'll be posting along with coupon matchups tomorrow. I didn't buy a whole lot, I just kind of wanted to see how familiar the cashiers were with the coupons at this point. I also snagged a few Kansas City Star Newspapers since they're only $1.00 there and the Star was WAY more coupons in it than the Globe. When I checked out, I told the cashier I had coupons and I kid you not, she said "Oh No!" and had this look of just utter horror on her face. She put the few through that I had and called another cashier over and said "These coupons are all for $1.00, can I accept these since it will make the products free?" The other cashier said, yes it was fine that the items were free after the coupons as long as they met the requirements noted on the coupons (size, etc.), they just couldn't take any Free product coupons where an amount had to be written on the coupon.
I'm mentioning this, because there will be a learning curve for everyone on this new coupon policy and some Dollar Tree employees will simply have a better grasp or more knowledge of the coupon policy than others. Especially since this is brand new for everyone, I highly encourage you to print the coupon policy and take it along with you so you'll have it with you when you need it. So, anyway, here was my Dollar Tree Shopping trip today:
4 Kansas City Star Newspapers – $1.00 ea.
Speed Stick Deodorant (1.7 oz.) – $1.00, Used $1.00/1 Speed Stick (excluded 2.0, 1.4 or 0.5 oz. sizes) 8/12 SS insert
3 Nescafe Taster's Choice Coffee Stick Packs (6 ct.) – $1.00 ea., Used 3 $1.00/1 Nescafe Taster's Choice Coffee, any size home mailer coupon
Final Cost $4.69
Did you go to the Dollar Tree? What kind of deals did you snag?