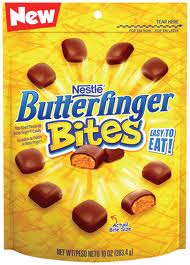 Update: This one reset for me, I was able to print 2 more today and they still have the awesome long expiration date too, whoo-hoo! 🙂
Here's a hot new Butterfinger Bites coupon you can print, yay!
I LOVE one! And the really great thing abut it is that it doesn't expire until 11/15/12. But be sure and print this high value coupon right away, this one may not last long. If you don't see it, use zipcode 77477. To do so, select the "Local Coupons" tab at the top of the page, input the zipcode, then go back to the "Coupons" tab.