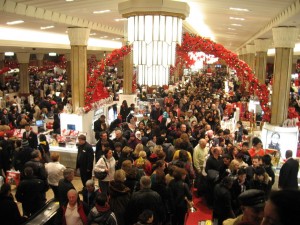 If you plan on getting out on Black Friday, here's just a few deals available at the mall. Personally, I've never been much of a crowds person, so I'll be skipping most of the Black Friday shopping. My plans include shopping at Walgreens Black Friday Sale and that's about it. I remember last year's Black Friday, I went to Walgreens & it was fairly calm and then I drove by Target and the entire parking lot was FULL!

Let's just say I passed on walking into that nightmare, I am a Cyber Monday Gal all the way! Nothing like getting great deals without ever having to leave your house! Anyway, for those of you who will be braving the stores, good luck and happy shopping!

Build-A-Bear: 11/26-11/28 Holly or Hall Moose Only $5.00 (While supplies last). Details HERE
JC Penney: Doors open at 4:00am Friday 11/26, Over 300 Doorbusters, Free Disney Snow Globe for first 100-5000 people through the door (varies by location, call & check your local store) Details HERE
Macys: Doors open at 4:00am Friday 11/26, Als Offering Free Disney Snow Globe While supplies last, Doorbusters 4:00am-1:00pm, In store savings pass HERE
Michaels: Thanksgiving 11/25 5:00pm-9:00pm, One Day Doorbusters, 50% Off Christmas Trees, see details HERE
Bed, Bath & Beyond: Shop Before 10:00am Friday 11/26, Get 20% off your entire purchase. See details HERE
Big Lots: Open Thanksgiving Day 7:00am-8:00am, see details & ad scan HERE
Sears: Stores Open Thanskgiving 7:00am-Noon, See ad & details HERE
And for a full list of even more stores, including ad scans of each store's details go HERE!