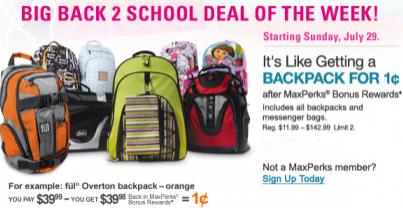 Reminder: This HOT Deal is now live! Head on over HERE to check out the entire selection of Backpacks & Messenger Bags you can snag for just $0.01 after MaxPerks Rewards!
Starting tomorrow 7/29 through 8/4/12, Office Max will have their entire selection of Backpacks and Messenger Bags priced at $11.99-$142.99 for just $0.01 after MaxPerks Rewards ! And, you can order up to 2! This offer will be good both online and in-store. I wanted to let you know about this one in advance because last year when they offered this promotion, they sold out quickly so I'm giving you a heads up on this smoking deal. You'll need to use your MaxPerks number at checkout to earn your MaxPerks Rewards. The great thing about MaxPerks Rewards is that you can roll them into future MaxPerks items which is awesome!
If you're not a member yet, be sure to Sign up Now before the promotion starts. Once you've registered, you'll get your MaxPerks id number right away. If you're a teacher, sign up for the MaxPerks Rewards for Teachers, otherwise, sign up for their regular MaxPerks which is for everyone else. I'll update this post early tomorrow with links once this hot deal goes live. And, remember, Shipping is FREE for orders $50 or more, so you can snag a couple $0.01 Backpacks without ever leaving your house. I don't know about you, but that sounds pretty darn good to me, especially considering it's going to be a high of 106 degrees here in Joplin tomorrow.  Buh-lieve me, I don't wanna leave the house for any reason if I don't have to right now.