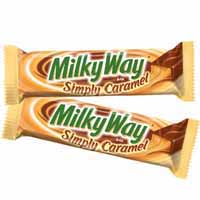 UPDATE: It now says to increase the value to $1.00/2 to "like" the coupon o Faceook, but I was able to print two of the $0.75/2 below and two more of the $1.00/2 one by printing the $1.00/2 ones directly from Facebook.
If you missed the last (and very brief) Milky Way Candy Bars coupon, then here's another one you can print:
The last one didn't last long at all and this one may not either, so print it before it disappears! You can often find these on sale for 2/$1.00 at various stores, so pair this coupon with a sale and/or a store that doubles coupons to get a sweet deal!