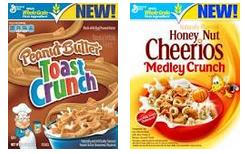 UPDATE: Check your local Dillons, select General Mills Cereals are apparently on sale (unadvertised)  for $2 a box including the first 3 cereals I have listed here, so only $1.00 a box after the coupons! Sale runs through 1/15 (Thanks Megan for spotting this great find). 🙂
Here are three more high value General Mills Cereal coupons to print, especially great for stores that double coupons. There seem to be a lot of cereal sales going on this month, so there should be some awesome deals out there with these coupons:
NOTE: If you don't see any of these 3 above coupons, use zipcode 77477 (To change zips, go to this link here, input the zipcode & hit enter, then click on the links above and each coupon will appear at the top of the page).
And Still Available: