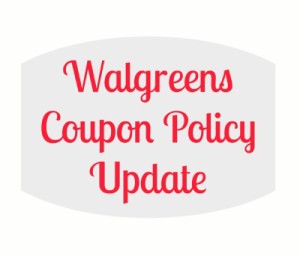 Walgreens Coupon Policy Updated
The Walgreens coupon policy was recently updated and I cannot say the changes are for the good. I have noted the two biggest changes below and you can view the entire Updated Walgreens Coupon Policy HERE.
Walgreens will not accept coupons that exceed the selling price of an item and no cash back is ever provided in exchange for any coupons (meaning that Walgreens will no adjust the coupons down that exceed the value, bummer). 🙁
Buy 1, Get 1 Free Coupons – When items are featured in a Buy 1 Get 1 Free promotion, at least one product needs to be purchased. A maximum of one BOGO coupon is permitted per two qualifying items in a BOGO offer. For offers when multiple items are purchased and additional items are free (buy 1 get 1 free; buy 2 get 1 free, etc.), the number of coupons applied to that offer cannot exceed the number of items required in the "buy" portion of the offer (meaning you cannot use a coupon on the "free" item).
Print the Walgreens Coupon Policy.