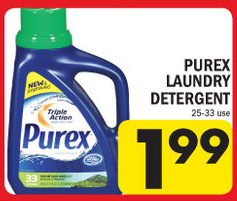 Nice! The two Purex Coupons are back and available to print!
And for those of you that shop at Price Cutter (and Summer Fresh stores), these coupons make for an awesome deal this week!
Price Cutter through 10/15/13
Purex Laundry Detergent 25-33 Use – $1.99
Use $0.50/1 Purex Laundry Detergent Coupon (doubles)
Or $1.50/2 Purex Laundry Detergent Coupon
Final Cost as low as $0.99!
Note: And if you store doesn't have this in stock when you go, don't forget to snag a Rain Check!
You can check out the rest of Price Cutter Deals this week HERE.