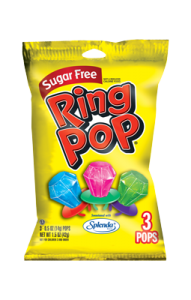 I was contacted awhile back about reviewing a product from Ring Pop, their Sugar Free Ring Pops line. I jumped at the chance because I loved the idea of this fun classic product now being offered in a sugar free version, in Ring Pop's words "All the Bling without the Sugar!"

Well, shortly after I received the Sugar Free Ring Pops, the tornado hit here in Joplin and instead of reviewing the ring pops, I gave the 2 bags I had received to a family along with some other goodies, in hopes it would bring much need smiles for the kiddos. Personally, I loved the classic ring pop years ago, it was one of those little carefree simple pleasures in life. The sugar-free version is offered in flavors Blue Raspberry, Watermelon, and Strawberry, which is on a fun plastic ring that stays put on little hands to prevent messes, making Sugar Free Ring Pop an ideal long-lasting sweet for long summer road trips. Plus, the Sugar Free Ring Pop is also fat free, tooth-friendly, and only contains 30 calories per pop! Be sure to "Like" their Facebook page HERE, right now you can anwser a quick 1-Question Quiz on their Facebook wall for a chance to win Ring Pop candy inspired by the new movie Transformers: Dark of the Moon.
Note: While I received two bags of the Sugar-Free Ring Pops (which I happily gave away), I was not compensated for this post. As always, opinions are 100% my own.