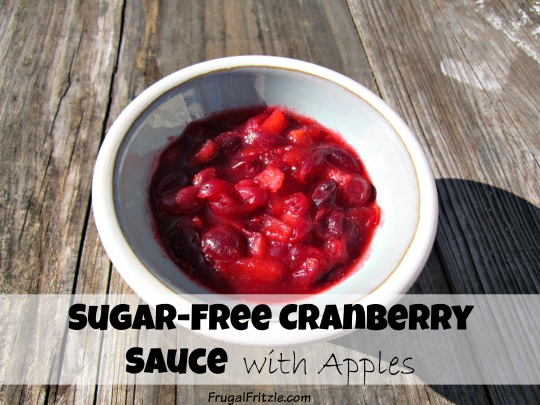 I am a big fan of fresh cranberry sauce, but I am not a big fan of all the sugar that typically goes in a traditional recipe. I started experimenting with making a sugar-free cranberry sauce and after a few attempts, I came up with a tasty version everyone really loves. The first batch I tried came out like paste, it was just, well, bad. After a few experiments, the cranberry sauce with apples was the biggest hit. I tried several different kinds of apples, but ended up liking Gala apples the best. They seem to have the best texture and right amount of sweetness to offset the tartness of the cranberries. I wanted to keep this recipe all-natural and I no longer use any artificial sweeteners, so I experimented with liquid stevia, powdered stevia and monk fruit. The powdered stevia was by far the winner out of the three. Anyway, I hope you enjoy the recipe, I really love how easy it is to make. The only bad thing about is that it does not long at all, it is gone in no time flat every time I make it.
↓↓↓ (Click on "Read more…" below to view the rest of this post) ↓↓↓
Ingredients:
1 1/2 cup water
12 oz bag fresh cranberries
2 small to medium Gala Apples, peeled, cored and diced
1/2 teaspoon cinnamon
1/2 teaspoon lemon zest (lime or orange works well too. You can also use 4-5 drops of lemon extract as a substitute)
3 packets of Truvia or any powdered stevia equivalent (1 packet equals 2 teaspoons of sugar)
Directions:
Combine Water and Truvia in a medium saucepan. Bring to a boil, add cranberries, diced apples, cinnamon and lemon zest, returning to a boil. Reduce heat and boil gently for 10 minutes, stir periodically. Cool completely at room temperature and refrigerate until it's time to serve it. Makes about 2 cups.