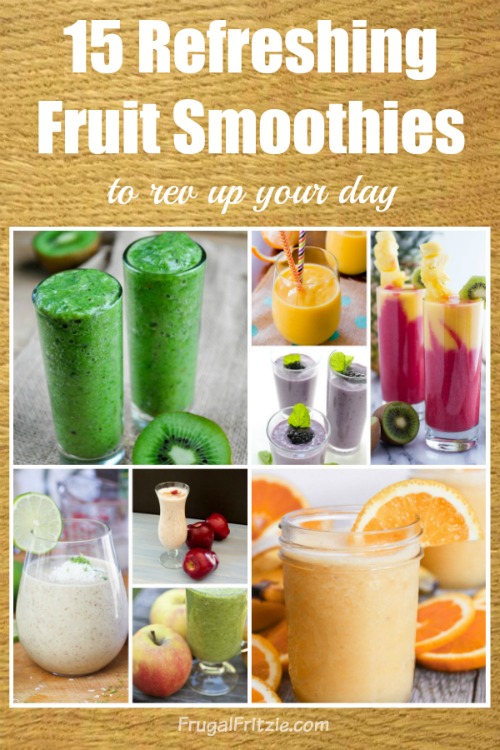 If you are looking to start off your day with a burst of energy, then here is a list of fifteen refreshing fruit smoothies recipes you will definitely want to try out. And the great thing about every single one of these smoothies is that they all contain healthy ingredients. When you are making a fruit smoothie, there is no need to add sugar or other processed foods since most fruit contains more than enough of their own natural sugars. While concocting these delicious smoothies, it should be noted that while they're loaded with nutrients, they can be calorically dense as well. It's tempting to chug a ton of these smoothies when you first start out, but keep in mind that a little goes a long way. I highly recommend making a batch, having a glass and then freezing the rest. Smoothies freeze (and thaw) very well and are just as scrumptious frozen. Yum! 🙂
15 Refreshing Fruit Smoothies List
(in no particular order)
1. Tropical Fruit Breakfast Smoothie from Half Baked Harvest, includes a simple coconut granola topping.
2. Rainbow Smoothie from Cook Like a Cavewoman. Contains a veritable rainbow of fruit including mangoes and blueberries.
3. Sunshine Smoothie from Sally's Baking Addiction. This one ought to get your day off to an awesome start with vibrant mix of bananas, oranges and pineapple.
4. Clean Eating Cinnamon Apple Smoothie from The Gracious Pantry with a delightful mix of apples, cinnamon, spinach and almondmilk. And if you go through a lot of cinnamon like I do, you will love this Starwest Botanicals Organic Cinnamon Powder, it is a fraction of the price of grocery store cinnamon in those tiny containers AND it's organic. So good!
5. Watermelon Smoothie from Citron Limette, which sounds like the perfect summer treat!
6. Lime, Ginger and Coconut Smoothie from The Healthy Foodie. This has a fascinating list of ingredients which I cannot wait to try out!
7. Blackberry, Banana & Mint Smoothie from Eat Good 4 Life. I love the addition of fresh mint in this recipe.
8. Refreshing Green Kiwi Smoothie from Vegan Sandra, an ingenious mix including cucumbers and kiwis.
9. Peach Cantaloupe Smoothie from Design Eat Repeat, a refreshing combination for sure.
10. Sneaky Vitamin C Smoothie from Delish Knowledge, love the name of this recipe, ha!
11. Red Delicious Apple Pie Smoothie from Pick Fresh Foods. The title may sound decadent, but the ingredients are a healthful mix of Greek yogurt, apples and more. Yummy!
12. Easy Strawberry Smoothie Recipe from Natasha's Kitchen, a blast of goodness with fresh strawberries, coconut milk and more.
13. Triple Berry Frozen Smoothie from In Katrina's Kitchen, just the ticket for a hot & humid summer day.
14. Vegan "Orange Julius" Smoothie from Domesticate Me, includes a blissful mix of bananas & orange zest.
15. Chocolate-Cherry Vegan Protein Shake Smoothie from Oh My Veggies. This one sounds absolutely amazing with a combination of cherries and chocolate soy milk.