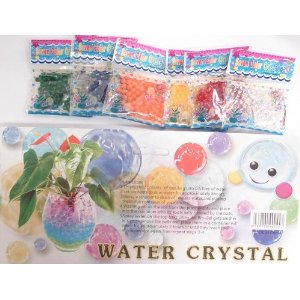 Here's a fun deal on Amazon. Get 5 Packages of Water Gel Crystal Soil for $2.59 with FREE Shipping right now, no minimum order needed! This fun set contains 5 Bags with the following colors: Green, Blue, Orange, Yellow, Red and Clear. Description:
Plant roots are able to absorb water from the crystal balls
Crystal soil balls that contains tiny holes (cannot be seen by bare eyes) that hold air and and water droplets
Grow plants without the hassles of keeping dirt
Directions: 1. Empty the contents of one bag into 0.5 liters of water. 2 Let contents soak in water for approximately 8 hours. 3 Use a strainer to drain excess water and place crystal balls in a container of your choice. 4 Wash off all the soil from the plants' roots and place in the container with the foots fully covered by the balls. 5 Add water as need to the balls all they shrink.
Water Gel Crystals is a water-absorbing polymer, it helps reduce watering and irrigation frequency for your houseplants by providing a reserve supply of accessible water to plant roots. This product is non-toxic, odorless and the color does not fade.
It looks like this product would be fun for tons of other projects too. In fact, here's another one on Amazon and they suggest using it for centerpieces, I love that idea! Here's one in my favorite color: Purple! 🙂 Orange might also be a fun one to play with for decorations with Halloween coming up!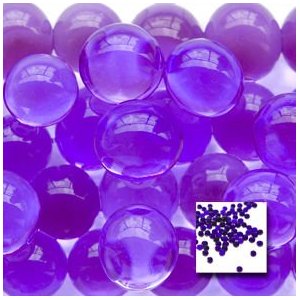 Purple Water Pearls $1.97 + FREE Shipping 
1 Sheet = 6 Packs
Each pack is approx. 120 pearls
Each pearl grows to 3/4″
Non-toxic – Biodegradable polymer
Place them in water and watch them grow!
Note: Amazon prices change frequently, so these deals can change at any time.