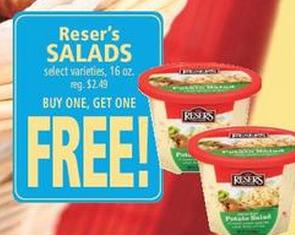 As I was sifting through the Sunday newspaper this morning, I ran across Price Cutter's 4-page flyer with specials running from today through Tuesday 4/7-4/9/13.  I like these extra sales that they have been running, one standout was a nice deal on Reser's Deli Salads. There is a great coupon available to print for $0.55 off ANY Reser's Deli Salads (ANY size) that goes great with this sale. Also, apparently some Dollar Tree locations carry the Reser's salads, so an awesome buy there if your store carries them (I haven't seen them at our Dollar Tree, but then again, I haven't been in quite awhile). Have you seen these at your Dollar Tree?
Price Cutter 4/7-4/9/13 Only
Reser's Deli Salads, select varieties 16 oz – Buy One Get One FREE @ $2.49, so $1.25 each
Use $0.55/1 Reser's coupon from HERE
Final Cost $0.70 each
Deli Fresh Fried Chicken 8 pc – $5.99
Various Kretschmar Deli Lunchmeats and Cheeses – Starting at $2.99 lb
Use $1.00 off 1 lb Kretschmar coupon from here
Final Cost Varies
You can check out Price Cutter's  entire flyer online here (the "Sunday Specials" flyer) which includes deals on several meat bundles as well.