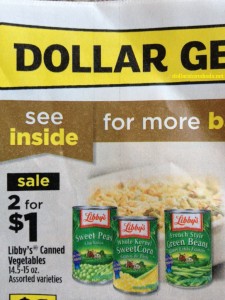 Wow, here's a heads up on a smoking hot deal at Dollar General starting 10/28. Now, this deal will no doubt be VERY popular & sell out early as a result, so I highly suggest getting there early in the week. And if you're a Walmart shopper, you can also price match this there since this is in Dollar General's ad.
Dollar General 10/28-11/4
Libby's Canned Vegetables (14.5-15 oz., select varieties) – $0.50
Use $1.00/4 Libby's Canned Vegetables 9/30 RP insert (expires 10/31)
Or $1/4 coupon
Final Cost $0.25 ea.
Thanks Dollar Store Deals for the photo & deal!