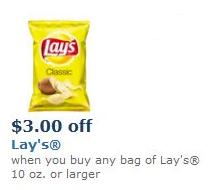 UPDATE: Ok, as expected, these went super fast, looks like all of them are now gone.  
Holy Smokes! There are 3 high value Lay's Chips coupons you can print right now and I can't imagine these would last very long, WOW:
Note: They print with a small "WinCo Foods" logo, but it is a manufacturer's coupon that can be redeemed anywhere internet coupons are accepted.