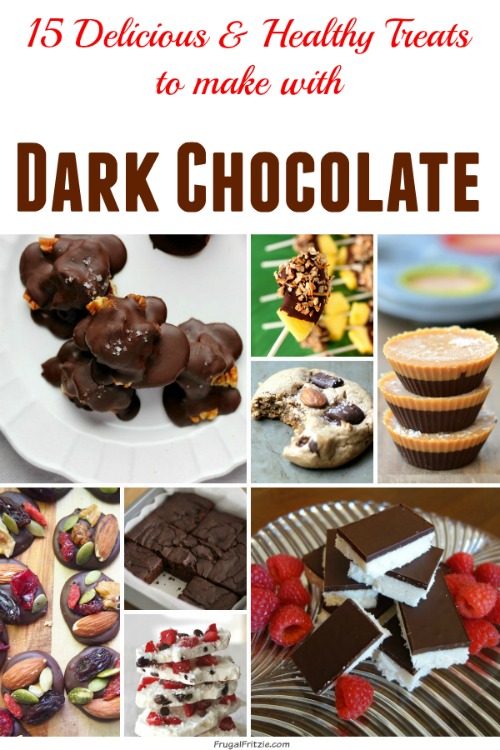 If there is one thing I truly love and adore and love some more, that is dark chocolate. Lovely, yummy, scrumptious, delightful dark chocolate. Oh, and did I leave out the part where it is actually good for you?! I mean, how awesome is that!? Here we take a take look at various healthy and delicious treats to make with dark chocolate. And the best part is that every single one of these dark chocolate recipes are made with healthy ingredients. And I have to say, all of these recipes are pretty damn ingenious. When you can make delicious treats like these made with real, whole foods, who the heck needs junk food? Enjoy! 🙂
List of 15 Healthy and Delicious Treats to Make with Dark Chocolate
(in no particular order)
1. Dark Chocolate Peanut Butter Banana Bites from Smile Sandwich. I love that you can freeze these, so clever!
2. Dark Chocolate Trail Mix Energy Bites from Simply Taralynn. Only 2 ingredients, sweet!
3. Homemade Dark Chocolate Turtles with Medjool Dates via Food 52. Beautifully presented, these would make an amazing gift!
4. No Bake Dark Chocolate Coconut Almond Butter Energy Bites from Joyful Healthy Eats. A healthy no bake treat? Yes please!
5. Frozen Chocolate Dipped Pineapple Pops from Kudos Kitchen By Renee. Freeze ahead of time and enjoy later.
6. Dark Chocolate Coconut Granola Bars from Fabtastic Life. The combination of ingredients sounds absolutely delicious.
7. Frozen Yogurt Bark from My Fussy Eater, made with greek yogurt. So smart!
8. Dark Chocolate Coconut Bars with coconut cream from Delicious Obsessions.
9. Dark Chocolate Chickpea Brownies from The Roasted Root. Yes, actual chickpeas go in this recipe. And yes, it sounds amazing.
10. Flourless Almond Butter Dark Chocolate Chunk Cookies from Ambitious Kitchen (Gluten-Free) .
11. Paleo Dark Chocolate Chip Walnut Cookies from Fed + Fit (paleo-friendly recipe).
12. Healthy Banana Split Bites from Momables. Very pretty!
13. Healthy Peanut Butter Cups from Fit Foodie Finds. Who needs Reese's peanut butter cups when you have this tasty option instead?
14. Dark Chocolate Crispy Bars with peanut butter and coconut from Eat Good 4 Life.
15. Avocado Truffle Chocolates Recipe from Yummy Healthy Easy. Avocado amazingly lends itself to dessert recipes very well. I can't wait to try out this one!