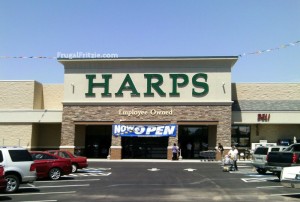 Harps Deals
I post Harps deals each week along with coupon matchups. Any free deals are always highlighted in green. You can check out Harps' Coupon Policy here.
The Harps Joplin store doubles coupons up to and including $0.50, so I will be including doubling scenarios in my weekly Harps grocery posts. Just keep in mind their policy states a limiting of doubling 2 "like" coupons and a limit of doubling 20 coupons total.
↓↓↓ (Click on " Read more…" below to view the Harps deals for this week) ↓↓↓
Keep in mind prices and selection may vary by store, so check your local Harps ad for details.
Notes for this week: Harps will be closed on Christmas Day.
MEAT/POULTRY
Farmland Bacon 12 or 16 oz – $3.99
Use $1/2 Farmland Bacon coupon from the 10/6 SmartSource insert
Final Cost $3.49 each
Farmland Lean-N-Tender Pork Butt Roast – $1.99 lb
Use $1/1 Fresh Pork coupon from here
Final Cost Varies
PRODUCE
Crisp Green Celery – $1.00
California Halos 5 lb – $5.99
Use $0.50/1 Halos Clementines coupon from the 12/8 SmartSource insert (doubles)
Final Cost $4.99
DAIRY/REFRIGERATED
Hormel Country Crock Side Dish 20-24 oz – $1.99
Use $0.55/1 Hormel Country Crock Side Dish Coupon or from the 11/10 SmartSource insert
Final Cost $1.44
Kraft Cheese, Shredded or Block 5.5-8 oz – Buy One, Get One FREE @ $2.99 so $1.50 each
Use $1/2 Kraft Shredded Cheese Coupon or here or here (zipcode 10101)
Final Cost $1.00 each!
Pillsbury Pie Crust 14.1 oz – $2.50
Use $0.50/2 Pillsbury Pie Crust Coupon or from the 12/15 or 12/8 SmartSource insert (doubles)
Final Cost $2.00 each
Kaukauna Cheese Ball 10 oz – $4.00
Use $1/1 Kaukauna coupon from here or from here
Final Cost $3.00
Pillsbury Grands! Biscuits 16.3-17.3 oz – $1.67
Use $0.30/2, $0.40/3 or $0.50/3 Pillsbury Grands! Biscuits coupons from the 12/15, 9/29 (exp 12/21), 10/6, 10/20 or 11/10 SmartSource insert
Or $0.50/3 Pillsbury Grands coupon from here (doubles)
Final Cost as low as $1.34 each
Hiland Sour Cream or Dip 16 oz – $1.69
Use $0.30/1 Hiland Sour Cream or Dip coupon from the 12/8 or 11/17 SmartSource insert or from here (doubles)
Final Cost $1.09 each
BEVERAGE
Maxwell House Coffee 28-36.8 oz – $6.98
Use $1/1 Maxwell House coupon from the 11/17 SmartSource insert
Final Cost $5.98
Maxwell House International Coffee 4-9.3 oz – $2.48
Use $1/1 Maxwell House coupon from the 11/17 SmartSource insert
Or $0.75/1 Maxwell House International Coffee coupon from here
Final Cost as low as $1.48
FROZEN FOODS
Sister Schubert's Rolls 10.25-15.8 oz – $2.98
Use $0.50/1 Sister Schubert's coupon (zipcode 65804) or from All You Magazine, December (doubles)
Or $0.75/1 Sister Schubert's Coupon (zipcode 55127)
Or $1/2 Sister Schubert's Products coupon from the 11/17 SmartSource insert
Final Cost as low as $1.98
WestPac Vegetables Select, 16 oz – $0.98
Use $0.35/1 Flav-R-Pac or Westpac Coupon or from the 9/8 or 12/8 SmartSource insert (doubles)
Final Cost $0.28
Marie Callender's Pie 28-45 oz – $4.98
Use $0.75/1 or $1/2 Marie Callender's Dessert Pie, Any 26 Oz. Or Larger coupon from the 11/10 SmartSource insert (exp 12/22)
Final Cost as low as $4.23
Stouffer's Enchiladas or Lasagna 57-90 oz – $11.98
Use $1.50/1 or $1/1 Stouffer's Party Size Entree, Any 57-96 oz coupon from All You Magazine, December
Final Cost as low as $10.48
Edward's Dessert Pies 25-36 oz – $4.98
Use $1/1 Edward's Whole Pie product, Any 23.5 Oz. Or Larger coupon from the 12/15 SmartSource insert
Final Cost $3.98
Reames Dumplings & Egg Noodles 12 oz – $1.98
Use $0.50/1 (doubles) or $0.55/1 Reames Frozen Product coupon from the 11/17 SmartSource insert
Final Cost as low as $0.98
SNACKS/BAKING
Nabisco Snack Crackers 7-9 oz, Also Rice Thins – $2.00
Use $0.75/1 Nabisco Rice Thins Coupon
Or $1/2 Nabisco Crackers Coupon from here
Or $0.75/2 Nabisco coupon from the 11/10 SmartSource insert
Final Cost as low as $1.25 each
Nabisco Ritz Crackers 7.5-15.1 oz – $2.50
Use $1/2 Nabisco Crackers Coupon from here
Or $0.75/2 Nabisco coupon from the 11/10 SmartSource insert
Final Cost as low as $2.00 each
Chips Ahoy! Cookies 9.5-14 oz – $2.50
Use $0.75/2 Nabisco coupon from the 11/10 SmartSource insert
Final Cost $2.13 each
Planters Whole Cashews or Deluxe Mixed Nuts 8.5-8.75 oz – $4.48
Use $1/2 Planters Nuts, Any 6 Oz. Or Larger coupon from the 11/17 SmartSource insert
Final Cost $3.98 each
C&H Granulated Sugar 4 lb – $1.98
Use $0.75/2 C&H Sugar coupon from the 11/3 RedPlum insert or from here or here
Final Cost $1.61 each
CANNED/CONDIMENTS/PASTA
French's French Fried Onions 6 oz – $2.98
Use $1/1 or $0.50/1 French's French Fried Onions coupon from the 12/8 SmartSource insert or from here (doubles)
Final Cost $1.98
French's Honey & Dijon Mustard 12 oz – $1.68
Use $1/1 French's Dijon coupon from here
Or $0.30/1 or $0.50/1 or $1/2 French's Mustard, Any 12 Oz. Or Larger coupon from the 8/11 SmartSource insert
Final Cost as low as $0.68
French's Worcestershire 10 oz – $0.98
Use $0.30/1 French's Worcestershire coupon from here (doubles)
Final Cost $0.38
NON-FOOD/MISC
Cascade Power Packs 14-20 ct – $3.98
Use $0.45/1 Cascade Coupon (doubles)
Or $0.50/1 (doubles) or $1/2 Cascade coupon from the 12/1 Procter&Gamble insert
Final Cost as low as $2.98
Old Spice & Secret Deodorant 2.6-3.25 oz – $2.24
Use $0.50/1 Old Spice COupon (doubles)
Or $1/2 Old Spice Products coupon from the 12/1 Procter&Gamble insert
Final Cost as low as $1.24
Zest Bar Soap 3 ct – $2.50
Use $0.50/1 (doubles) or $1/2 Zest Soap, Any 3-Bar Or Larger coupon from the 12/15 SmartSource insert
Final Cost as low as $1.50
Arm & Hammer Spinbrush Power Toothbrush & Refill Heads – $4.96
Use $2/1 Spinbrush coupon from here
Or $1/1 Arm & Hammer Spinbrush coupon from the 11/24 SmartSource insert
Final Cost as low as $2.96
Best Choice Batteries 16 ct AA or AAA – $2.50