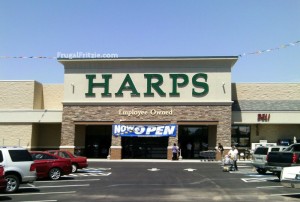 Harps Deals
I post Harps deals each week along with coupon matchups. Any free deals are always highlighted in green. You can check out Harps' Coupon Policy here.
The Harps Joplin store doubles coupons up to and including $0.50, so I will be including doubling scenarios in my weekly Harps grocery posts. Just keep in mind their policy states a limiting of doubling 2 "like" coupons and a limit of doubling 20 coupons total.
↓↓↓ (Click on " Read more…" below to view the Harps deals for this week) ↓↓↓
Keep in mind prices and selection may vary by store, so check your local Harps ad for details.
Notes for this week: Harps doesn't have an ad this week due to the holiday according to their site, but they did have a few advertised "in-store specials". Nothing too exciting that I can see. Check back for next week's ad for more deals.
PRODUCE
Large Honeycrisp Apples – $1.99 lb
DAIRY/REFRIGERATED
Turkey Hill Lemonade or Tea 64 oz – $1.25
FROZEN FOODS
Stouffer's Dinners 6-20 oz – $2.50
Use $1/2 Stouffer's Entrees for One, any 6-20 oz coupon from the 9/8 RedPlum insert(exp 11/30)
Final Cost $2.00 each
Ore Ida Onions or Potatoes 16-32 oz – $2.98
If included, Use $1/1 Ore-Ida Simply Potato coupon from here (lower right)
Or $1/2 Ore Idea Simply Potato Coupon
Final Cost as low as $1.98
CANNED/CONDIMENTS/PASTA
Best Choice Canned Tomatoes 14.5-15 oz – $0.68
Best Choice Canned Vegetables Carrots, Mixed Vegetables, Sweet Peas, Whole Kernel or Cream Corn, French or Cut Green Beans 11-15 oz – $0.68
American Beauty Pasta Select, 24 oz – $1.98
Williams Chili Seasoning 1 oz – $0.98