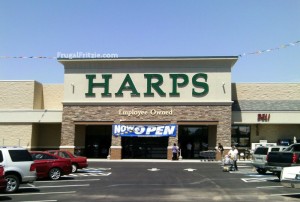 Harps Deals
I post Harps deals each week along with coupon matchups. Any free deals are always highlighted in green. You can check out Harps' Coupon Policy here.
The Harps Joplin store doubles coupons up to and including $0.50, so I will be including doubling scenarios in my weekly Harps grocery posts. Just keep in mind their policy states a limiting of doubling 2 "like" coupons and a limit of doubling 20 coupons total.
↓↓↓ (Click on " Read more…" below to view the Harps deals for this week) ↓↓↓
Keep in mind prices and selection may vary by store, so check your local Harps ad for details.
MEAT/POULTRY
Hormel Party Tray 1.75 lb – $9.99
Use $2/1 Hormel Party Tray Coupon or from the 11/3 SmartSource insert
Final Cost $7.99
Hormel Cheese Ball Party Tray 28 oz – $9.99
Use $2/1 Hormel Party Tray Coupon or from the 11/3 SmartSource insert
Final Cost $7.99
Hillshire Farm Lit'l Smokies 13-14 oz – $3.29
Use $1/2 or $0.75/2 Hillshire Farm Smokies Cocktail Links coupon from the 11/17 RedPlum insert
Final Cost as low as $2.79 each
Farmland Sliced Bacon 12-16 oz – $3.99
Use $1/2 Farmland Bacon coupon from the 10/6 SmartSource insert
Final Cost $3.49 each
Best Choice Frozen Turkey 10-12 lbs – FREE With Additional $100 Grocery Purchase. Limit 1 While Supplies Last. Excludes: Prescriptions, Gas, Cigarettes & Tobacco, Western Union, Gift Cards, Money Orders & Rug Doctor Rentals
PRODUCE
Apio Vegetable Tray With Ranch Dip 36 oz – $5.99
DAIRY/REFRIGERATED
Hiland Sour Cream or Dip 16 oz – $1.59
Use $0.30/1 Hiland Sour Cream or Dip coupon from the 10/20 or 11/17 SmartSource insert or from here (doubles)
Final Cost $0.99 each
Pillsbury Grands Biscuits 16.3-17.3 oz – $1.67
Use $0.30/2, $0.40/3 or $1/3 Pillsbury Refrigerated Grands! coupon from the 9/29 or 10/6 or 10/20 SmartSource insert
Or $0.40/3 Pillsbury Grands Coupon (doubles) (zipcode 90210)
Or $1/4 Pillsbury Grands Coupon (zipcode 77477)
Or IF included, Use $0.50/1 Pillsbury Sweet Grands Coupon (doubles)
Final Cost as low as $0.67
Daisy Brand Cottage Cheese 16 oz – $1.78
Use $0.50/1 Daisy Brand Cottage Cheese coupon form the 9/8 or 11/10 SmartSource insert (doubles)
Final Cost $0.78
Cracker Barrel Chunk Cheese 7-8 oz – $3.00
Use $1/1 Cracker Barrel Coupon from the 11/17 SmartSource insert or from here
Final Cost $2.00
Reddi-wip 6.5 oz – $1.98
Use $0.25/1 (doubles) or $1/2 Reddi-wip coupon from the 11/10 SmartSource insert
Final Cost $1.48
International Delight Creamer 16 oz – $1.98
Use $0.55/1 International Delight coupon from here
Final Cost $1.43
Kraft Cheese, shredded or chunk 8 oz – Buy One, Get One FREE @ $2.99 (so $1.50 each)
BEVERAGE
Folgers Coffee 23-33.9 oz – $6.98
Use $1/2 or $0.25/1 (doubles) Folgers coupon from the 11/3 RedPlum insert
Final Cost $6.48 each
Maxwell House International Cafe 4-9.3 oz – $2.48
Use $1/1 Maxwell House coupon from the 11/17 SmartSource insert or $0.75/1 coupon from here
Final Cost as low as $1.48
FROZEN FOODS
WestPac Vegetables 14-16 oz – $0.88
Use $0.35/1 Flav-R-Pac or Westpac Product coupon or from the 9/8 SmartSource insert (doubles)
Final Cost $0.18
Sister Schubert Rolls 10.25-15.8 oz – $2.77
Use $0.50/1 Sister Schubert's Products coupon from here (zipcode 46750) or from All You Magazine, November (doubles)
Or $1/2 or $0.75/1 Sister Schubert's Products coupon from the 11/17 SmartSource insert
Final Cost as low as $1.77
Mrs. Smith's Fruit Pies 35-37 oz – $3.98
Use $1/1 Mrs. Smith's Pie coupon from the 11/17 SmartSource insert
Final Cost $2.98
Marie Callender's Pie 28-43 oz – $4.98
Use $0.75/1 Marie Callender's Dessert Pie coupon from the 11/10 SmartSource insert (some areas got a $1/2 coupon)
Final Cost as low as $4.23
Rhodes Dinner Rolls 8.5-14 oz – $1.98
Use $0.40/1 Rhodes Bread Or Rolls coupon from the 11/10 RedPlum insert (doubles)
Final Cost $1.18
Rhodes Dinner Rolls 16.5-48 oz – $3.78
Use $0.40/1 Rhodes Bread Or Rolls coupon from the 11/10 RedPlum insert (doubles)
Final Cost $2.98
Cool Whip 8 oz – $0.99
Jell-O Pudding or Gelatin 0.3-3.9 oz – $0.75
Use $1.50 Cool Whip Whipped Topping, Any (1) AND Jell-O Gelatin or Pudding, Any (1) coupon from All You Magazine December
Final Cost $0.24 for both items
Fast Fixin' Meatballs Family Pack 52 oz – $8.99
Use $1/1 Fast Fixin' coupon from here
Final Cost $7.99
Red Baron Classic Pizza 14.76-23.45 oz – $3.33
Use $1/2 Red Baron Coupon (zipcode 84123)
Or $1/3 Red Baron Products coupon from the 10/27 SmartSource insert
Final Cost as low as $2.83 each
DiGiorno Pizza 13-33.6 oz – $5.49
Use $2/2 DiGiorno Large Pizzas coupon from the 11/3 RedPlum insert
Or if included, $1/1 DiGiorno Thin & Crispy coupon here (zipcode 03103)
Final Cost $4.49
SNACKS/BAKING
Nabisco Ritz Crackers 7.5-15.1 oz – $2.50
Use $0.75/2 Nabisco coupon from the 11/10 SmartSource insert
Final Cost $2.13 each
Nabisco Wheat Thins or Triscuits 5.5-9.1 oz – $2.00
Use $0.75/2 Nabisco Cookie Or Cracker Products, Any 6.5 Oz. Or Larger coupon from the 11/10 SmartSource insert
Final Cost $1.63 each
C&H Sugar 4 lb bag – $1.98
Use $0.75/2 C&H Sugar coupon from the 11/3 RedPlum insert or here or here (zipcode 77477)
Final Cost $1.62 each
C&H Brown or Powdered Sugar 2 lbs – $1.88
Use $0.75/2 C&H Sugar coupon from the 11/3 RedPlum insert or here or here (zipcode 77477)
Final Cost $1.52 each
Karo Blue or Red Label Corn Syrup 16 oz – $2.38
Use $0.40/1 Karo Syrup coupon form the 11/10 or 10/6 or 9/8 RedPlum insert (doubles)
Final Cost $1.58
Planters Cashews or Mixed Nuts 8 or 10.3 oz – $3.98
Use $1/2 Planters Nuts coupon from the 11/17 SmartSource insert
Final Cost $3.48 each
CANNED/CONDIMENTS/PASTA
Princella Cut Yams 15 oz – $0.98
$0.50/3 Princella or Allens Green Beans coupon (doubles)
Final Cost $0.65 each
French's Fried Onions 6 oz – $2.88
Use $1/1 or $0.50/1 French's French Fried Onions, Any 6 oz coupon from the 11/3 SmartSource insert
Or $0.50/1 French's French Fried Onions coupon from here
Or $0.30/1 French's French Fried Onions coupon from here
Final Cost as low as $1.88
Libby's Canned Pumpkin 15 oz – $1.68
Use $0.75/2 Libby's Pumpkin, Any 15 Oz. Or Larger Cans coupon from the 11/3 SmartSource insert
Final Cost $1.31 each
Kraft Mayo or Miracle Whip 30 oz – $2.98
Use $1/1 Miracle Whip coupon from here
Final Cost $1.98
Lucky Leaf Apple Pie Filling 21 oz – $2.00
Use $1/2 or $0.75/2 Lucky Leaf coupon from the 11/10 SmartSource insert or $0.75/2 from here
Final Cost as low as $1.50 each
BREAD
Best Choice Sandwich Wheat Bread 24 oz – $0.98
NON-FOOD/MISC
Kleenex Facial Tissue 74-160 ct – $1.67
Use $0.75/3 Kleenex coupon from the 10/27 SmartSource insert or from here ("boost" up to $1)
Use $0.50/3 Kleenex coupon from here
Final Cost as low as $1.34 each
Cascade Action Packs 16 or 20 ct – $3.98
Use $0.50/1 Cascade Product, Any coupon from the 10/27 Procter&Gamble insert (doubles)
Final Cost $2.98
Hefty Plates, Bowls or Cups 20-60 ct – $1.78
Use $1/2 Hefty Plates Or Bowls coupon from the 9/15 or 11/10 RedPlum insert or from here
Final Cost $1.28 each
Scope Dual Blast & Outlast Mouthwash 25.4 oz – $3.48
Use $1.50/1 Scope coupon from the 10/27 Procter&Gamble insert
Or $1/1 Scope Dual Blast Coupon
Or $1/1 Scope Outlast Coupon
Final Cost as low as $1.98
Halls Cough Drops 17-30 ct – Starting At $1.19
Use $1/2 Halls Cough Drops coupon from the 11/3 SmartSource insert
Final Cost as low as $0.69 each
Kotex Pads, Liners & Tampons 14-64 oz – $2.72
Use $2/2 or $1/2 Kotex coupons from the 10/27 SmartSource insert
Final Cost as low as $1.72
Gillette & Old Spice Body Wash 16 or 18 oz – $3.50
Use $6/3 or $3/2 Gillette Shave Gel, Prep, Body Wash Or Antiperspirant/Deodorant coupon from the 10/27 Procter&Gamble insert
Final Cost as low as $1.50
Meow Mix or Kibbles & Bits 13.5 or 16 lb – $10.98
Use $1.50/1 Kibbles 'N Bits Dry Dog Food coupon from the 10/6 RedPlum insert
Or $1/1 Meow Mix Dry Cat Food coupon from the 10/6 RedPlum insert
Final Cost as low as $9.48