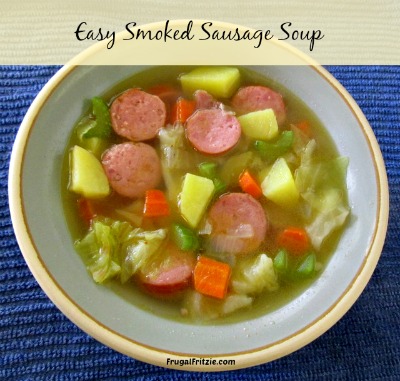 This easy Smoked Sausage Cabbage Soup recipe is an absolute favorite in our household. I love it because it is so simple to prepare and it is always a big hit, this hearty and satisfying soup never lasts long when I make it. It freezes well too, but it usually doesn't last long enough for me to freeze any, it's generally long gone by then. Soups are one my favorite foods to make for several reasons. I just love that soups are so flexible, it is one of those items you can throw together from items in your pantry in a matter of minutes. They can be cooked easily over the stove, or even better, in a slow cooker!
↓↓↓ (Click on "Read more…" below to continue reading) ↓↓↓
Ingredients
10 Cups Water
1 Tablespoon Better Than Bouillon Chicken (you can use chicken broth instead if you like)
1 package of Smoked Sausage 12-14 oz
1/2 Large Head Cabbage, Chopped
1 Medium Yellow Onion, Diced
2 Carrots, Diced
2 Celery Stalks, Diced
4 Medium Russet Potatoes
1/3 Cup Green Bell Pepper, Diced
1/2 teaspoon Black Pepper
1/2 teaspoon Crushed Red Pepper Flakes
1 Garlic Clove, minced
Directions
Use a 5-Quart pot. Add water, all the vegetables except the bell pepper and bring to a boil. Let simmer for about 5 minutes, then add the smoked sausage, bouillon, spices and bell pepper, then simmer for another 20 minutes or so, stirring on occasion. Cook to taste.  Let sit about 5-10 minutes, then serve. If you prefer to use a slow cooker, cook on high for about 4 hours, but don't add the smoked sausage until the last hour (it seems to turn out better that way in my opinion).
Optional Toppings
My favorite topping used to be sour cream, but it is now plain greek yogurt, yum! Both are a great complement to this hearty smoked sausage cabbage soup.