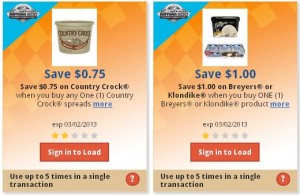 Well, here is something I have not seen before with Dillons coupons. Dillons is having a Daytona 500 sale and they have several new digital coupons to go along with it. Head on over to Dillons site here and sign in with your account to load these coupons onto your card. These new Dillons Daytona coupons are unique because unlike regular Dillons digital coupons which can only be used a single time, these can be used 5 times. Details: "You can use these coupons up to 5 times in a single transaction. You cannot use these coupons in more than one transaction or in different transactions on different days. The digital coupons will be available for 2 1/2 weeks. You can load the same digital coupon twice to your card – one time from February 10 – February 20 and then a second time from February 17 – February 27." You can read more details here. Before loading any of these coupons onto your card just keep in mind that unlike regular paper coupons, digital coupons do not double and the digital coupons take precedence over paper coupons when you checkout. There are quite a few of these unique Daytona coupons, they include:
Save $0.75 on any one Country Crock Spread

Save $0.40 on one Fritos (10.0-11.0 oz, any flavor/variety)or Cheetos (8.75-9.75 oz, any flavor/variety)

Save $0.55 on Oreo Cookies (8.5-15.5 oz.)

Save $1.00 on one Breyers or Klondike product

Save $1.00 on any one Hellmann's or Best Foods Mayonnaise

Save $1.00 on any one Folgers Coffee product(22.6-33.9oz)

Save $0.60 on one Oscar Mayer Fully Cooked Bacon

Save $1.00 on one M&M'S Brand Chocolate Candies or Snickers® 6-Pack Singles 10.14-11.16 oz

Save $1.50 on any one Finish Quantum 25ct or Finish All in 1 Powerball 32ct or Finish All in 1 Gelpacs 32ct

and more!