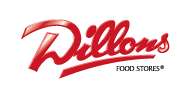 Dillons is part of the Kroger chain and they offer all sorts of great deals! You can find all the latest happenings and my weekly Dillons coupon matchups HERE. Here's a few little tidbits about them:
NOTE: Dillons recently revised their coupon policy. Effective 8/21/13, Dillons will no longer double coupons. See Dillons Coupon Policy HERE with all the details.
NOTE: Doubling Ends 8/21/13, at that time they will then accept coupons at face value. They Double Coupons up to and including $0.50. Also, any coupons over $0.50 up to $1.00 get doubled to $1.00. For example, a $0.55 coupon would double to $1.00. They do accept Internet Printed Coupons (see the above coupon policy for complete details).
They Regularly mark down their produce, meat & dairy products. They also clearance non-food items on a pretty regular basis. Check out my

Dillons Category

to see the best current deals!
They offer good sales every week, including regular Mega Event deals.
They have Catalina Coupons which are coupons that print out at the register. Check out a list of

current Dillons catalinas here

. They also mail out coupon booklets periodically with both Manufacturer's Coupons and Store Coupons.
They have the Nicest staff in my experience! They always have plenty of friendly staff there to help whenever you need them and they are always more than happy to help. It's a refreshing change from some other stores I've been to!
They have their own Shopper's card. You can pick up a card & fill out a quick form in the store & your card is instantly ready to use. You'll need the shopper's card to get their sale prices.  And while the mailing lists are supposedly selected at random, you'll also be much more likely to get on their mailing list to receive coupons by using your card. In the past, I received a coupon mailer from them in the mail every month.
You can load e-Coupons onto your Shopper's Card through these websites:

Upromise

,

Cellfire

and through Dillons themselves

here

. You simply sign up and with your Dillons Shopper's Card number, you select whichever coupons you want and they are automatically loaded onto your card. It doesn't get much easier than that.
Check out Dillons's site for their weekly ad, store locator and other great information here. I post their deals each and every week along with extensive coupon matchups. If you have any other questions about Dillons, feel free to email or leave a comment, thanks!