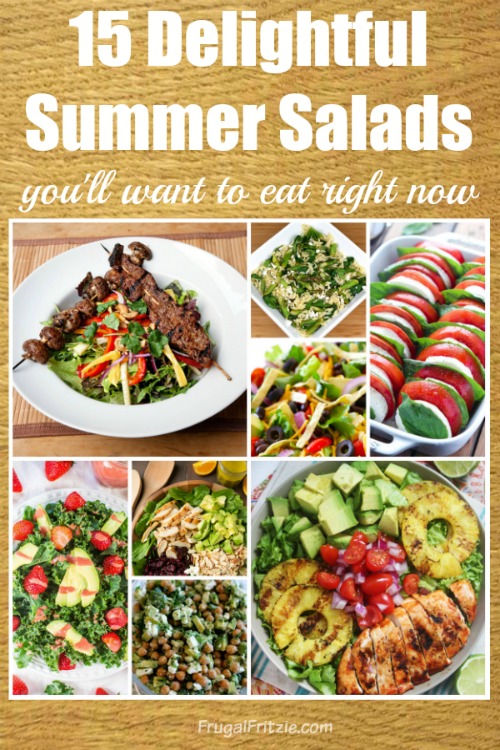 Here is a roundup of 15 Delightful Summer Salads You'll Want to Eat Right Now. I eat salads all times of the year, but somehow they seem even more appealing during the hot summer months. These salads all sound absolutely refreshing, healthy and satisfying all at the same time. I just love how many different ways there are to make salads. Not only do you have so many delicious greens to choose from, but you can add just about any kind of ingredient you can think of. Salads are a fantastic way to mix and match a variety of flavors and come up with some mouth-watering choices for sure! And herbs can really add another dimension to salads, my favorite herb to use is basil (thanks for the tip Mom)! 🙂
15 Delightful Summer Salads List
(in no particular order)
1. Sriracha Lime Chicken Chopped Salad from Lexi's Clean Kitchen.
2. Apple Cranberry Walnut Salad from Le Crumb de la Crumb.
3. Southwestern Chopped Salad with Cilantro Dressing from The Garden Grazer.
4. Tomato Cucumber Avocado Salad from Green Valley Kitchen.
5. Southwest Shrimp Salad with Spicy Honey-Lime Dressing from Premeditated Leftovers.
6. Crunchy Romaine Strawberry Salad from Love Grows Wild.
7. Skinny Taco Salad from Gimme Some Oven.
8. Lemon Orzo Salad with Asparagus, Spinach, and Feta from Two Peas & Their Pod.
9. Tomato Mozzarella Salad with Balsamic Reduction from Little Broken.
10. Cucumber Tomato Salad from The Blond Cook.
11. Chickpea Avocado and Feta Salad from Homegrown & Healthy.
12. Cranberry Avocado Spinach Salad with Chicken and Orange Poppy Seed Dressing from Cooking Classy.
13. Kalbi Beef Salad with Asian Style Dressing from The Ivory Hut.
14. Buffalo Chicken Salad from Kitch Me.
15. Strawberry, Avocado, and Kale Salad with Strawberry-Apple Cider Vinaigrette from Averie Cooks.