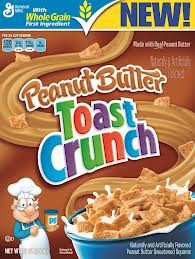 Head on over and print this rare cereal coupon for $1.25 off ANY one box of General Mills Peanut Butter Toast Cereal. If you have not had a chance yet, be sure and print it right away, it probably will not be around long. I was very happy to see this one return, because I did not get a chance to print it before it quickly disappeared the first time. And for you Dillons shopper's, this cereal is on sale right now (and will be next week too!), so an awesome deal after the coupon:
Peanut Butter Toast Crunch Cereal – $1.99
Use $1.25/1 Peanut Butter Toast Crunch Cereal coupon from here
Final Cost $0.74
Thanks Time2Save Workshops!