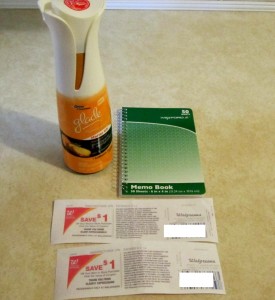 Reading around the web today on several different different sites, it looked like the Glade Expressions Register Reward Deal was even better than anticipated, that it was printing TWO $1 Register Rewards instead of one. Since I have a Walgreens right down the road from me, I decided to run in for a quick trip and check it out for myself. It did indeed print the 2 $1.00 RRs instead of one, but there is no telling how long this will last. Here's my transaction:
Glade Expressions® Fragrance Mist starter kit – $2.99
Used $3.00/1 coupon (previously available)
Get back TWO $1.00 RRs
Also picked up a Memo Pad – $0.20 (after in-ad Walgreens coupon)
Final Cost FREE plus $1.80 overage
Thanks Living Rich with Coupons!