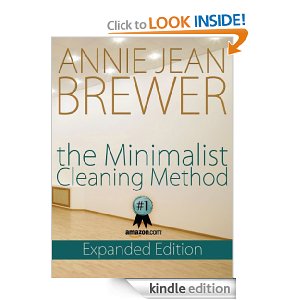 Get this The Minimalist Cleaning Method Expanded Edition Kindle Book for FREE right now on Amazon! NOTE: This is currently Free for everyone right now, but prices change frequently on Amazon, especially on these Kindle books so be sure and check that the price is still Free before adding it to your cart. I'm forever fighting clutter at our house, so I just loved the description of this book:
"We secretly envy that spacious, super-clean look but don't have a clue how to get it. We hate our messy homes so we try everything that lands on the shelf looking for a miracle. That miracle is NOT going to happen. All of those magic potions and super-duper cleaning tools are not what makes your home clean: YOU are. In fact, you can get your home cleaner using a lot less stuff while spending a lot less money than you think."
Don't have a Kindle? Amazon offers Free Apps so you can read the Kindle editions with several other devices: PC, Android, Blackberry or iPhone or iPad. I like to use the cloud reader with Google Chrome, it works great!