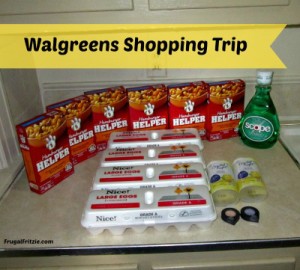 My Walgreens Shopping Trip
I ran over to my nearby Walgreens earlier today to pick up some cheap Hamburger Helper along with a few other items. I was also out of eggs, but fortunately I had a rain-check tucked away for a time such as this. I didn't see a whole lot in the way of unadvertised deals, but I noticed they did have a toy clearance sale on quite a few toys (50% off), so something to keep an eye out for at your local Walgreens on your next trip. I was happy that everything I was looking for was in stock, even the Almay softies which was a pleasant surprise, I thought the $4.99 eye shadows would have been wiped out a long time ago. Anyway, here are the details of my Walgreens shopping trip today:
↓↓↓ (Click on "Read more…" below to continue reading this post) ↓↓↓
2 Almay Eye Shadow Softies – Buy 1, Get 1 50% off at $4.99 (one rang up at $4.99, the other at $2.49). First, I used $2/1 Almay Cosmetics

Walgreens Coupon

took off $2 2x) and then I used two $4/1 Almay coupons from the 4/13 SmartSOurce insert
4 Nice! Large Dozen Eggs – $0.99 each with Rain-Check, plus, I checked and I had an offer for $0.50 back on any eggs from

Checkout 51

, so I submitted my receipt for that. It all adds up! 🙂
Scope Classic Mouthwash 1 Liter – $2.99, Used

$1/1 Scope Classic Coupon

(zipcode 90210), got a $1.25 RR
2 Crystal Light – $2.00 each, Used $1/2 Crystal Light coupon from the 4/27 SmartSOurce insert, got back 1,000 Balance Rewards Points
6 Hamburger Helper – $1.00 each, Used 3

$1/2 Hamburger Helper Coupons

, got 2,000 Balance Rewards Points
Final Cost $7.79 + I got a $1.25 Register Reward, 3,000 Balance Rewards Points and $0.50 back from Checkout51!
You can check out all the Walgreens Deals this week HERE.