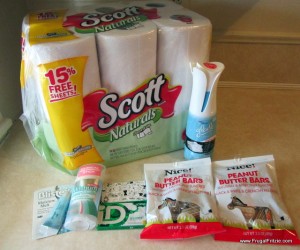 So I headed to my nearby Walgreens this morning to give their new Balance Rewards program a try and so far, so good. I entered my phone number at checkout that I registered with online and they gave me my card right there on the spot. I didn't have any issues with my transaction which was great. And I liked that it showed on the receipt what points you earned and which items you earned them for. It also had a Rewards Point summary/total at the bottom of the receipt which also came in very handy.  If you've stopped in to use your new card too,  please feel free to share your experience as well. Since this is a brand new program, it will take some getting used to for sure and there will be a learning curve, but so far I really like it!
Glade Expressions Starter Kit – $2.99, Used FREE product coupon from home mailer (Note: There's also a

$2/1 coupon

). Got back TWO $1.00 RRs instead of one making this deal a nice little money-maker
Blistex Moisture Melt Lip Care – $2.00, Got back $2.00 RR
2 Stride ID Gum 2/$2.00 – Used BOGO

ID Gum coupon

(zipcode 77477, click on Local Coupons tab at top of page, input zip, then go back to the Coupons tab), it automatically took off the max value which was $1.28. Got back 1000 Rewards Points
Lady Mitchum Smart Solid Clinical Deodorant – $1.99 (None of the Mitchum Deodorants were tagged, I picked this one since it was regularly priced $4.99, so the best deal), Used $0.75/1 8/19 SS insert, Got back 2000 Points (it said 1000 points in the ad)
Scott Naturals Paper Towels (6 Rolls) – $5.00, Used $1.25/1

Scott coupon

& $1.00/1 store coupon from the

September Walgreens Coupon Book

2 Nice! Peanut Butter Bars Candys – $0.49 ea., Used Walgreens in-ad store coupon
Used $6.00 in previous RRs
Final Cost $2.08, Got back $4.00 in Register Rewards and a total of 3000 points.
And don't forget to check out the rest of Walgreens deals this week.